As the new year starts I like to reflect on the past year, and it's become quite the annual tradition. Clearly this is quite a self indulgent activity, and I do it more as a reminder to myself than anything else. That said, I've really enjoyed reading my friends' yearly reviews, Remy, Simon, Laura, and Val. So maybe you'll enjoy this too? Who knows? I can't promise anything though 🙂
PixelPyros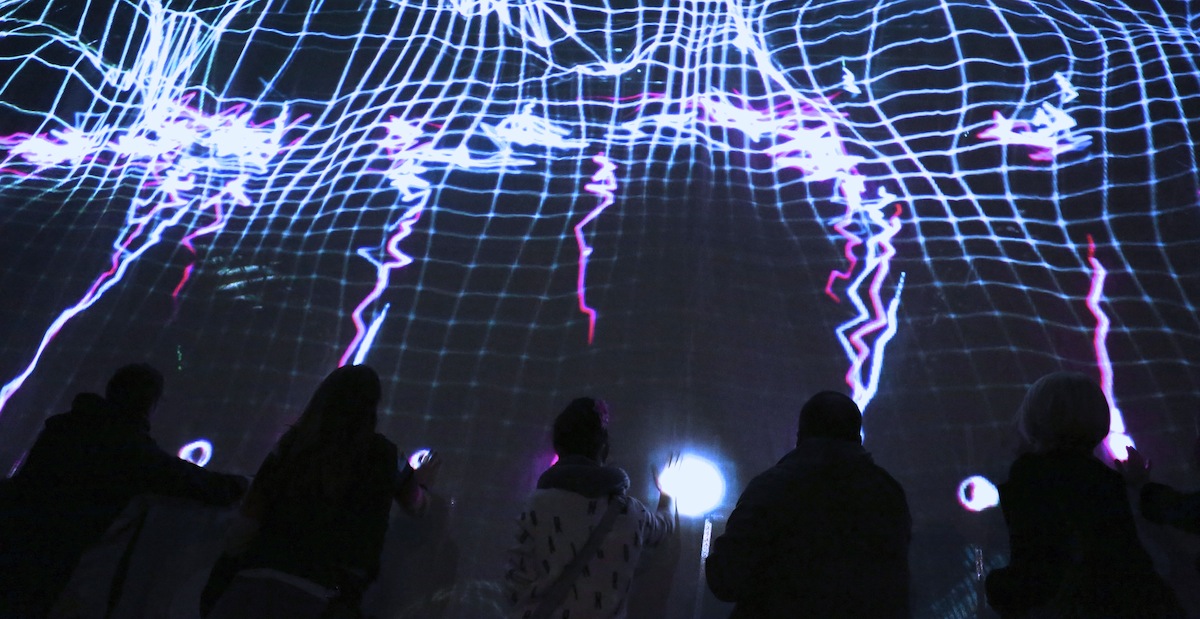 PixelPyros
The project that dominated 2013 was undoubtably PixelPyros. After the successful launch of the project in 2012 at the Brighton Digital Festival, the Arts Council suggested that I take the show on tour. In January I started making plans.
It's hard to describe how large an undertaking this was, so I'll probably go into it in some separate blog posts. But suffice it to say it monopolised my time for most of the year. The sheer effort of will required to make a project like this materialise out of nothing cannot be underestimated. Finding venues, negotiating with suppliers, applying for funding, health and safety reports, event insurance, and that's before we even start looking at the technical implications, R & D and coding!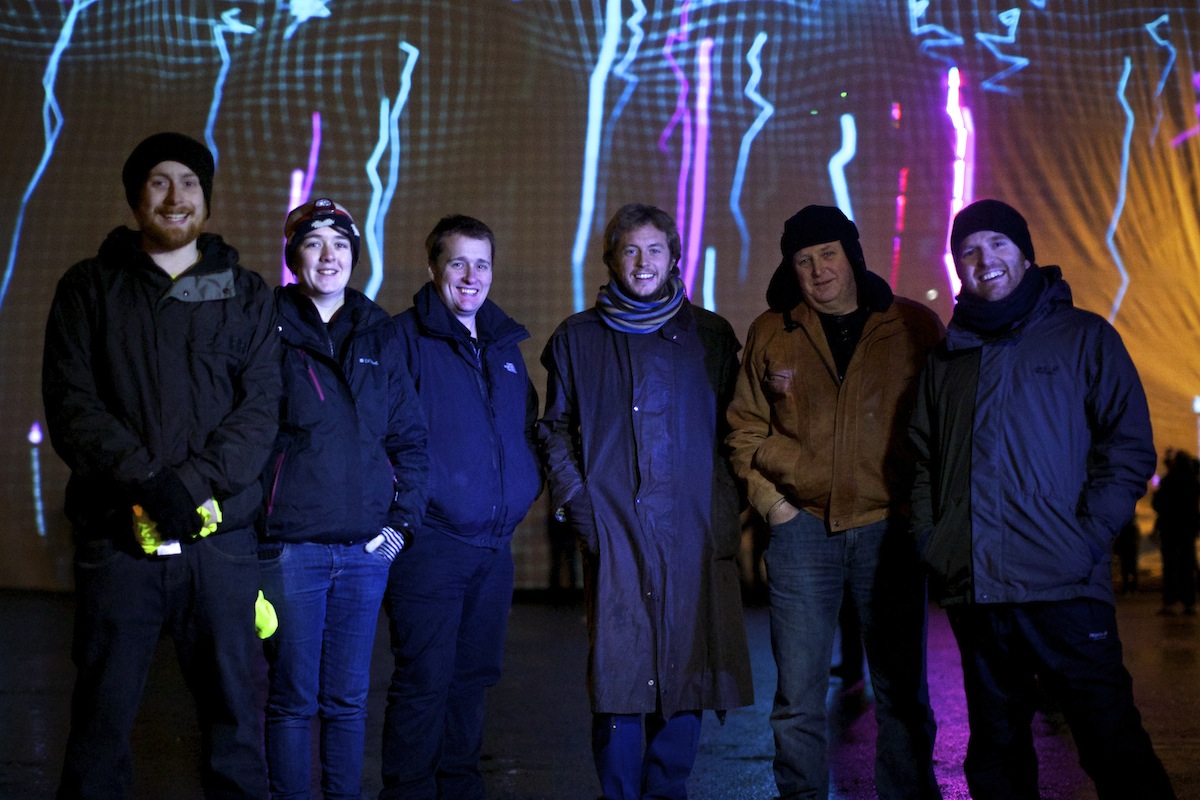 The PixelPyros crew in Huddersfield
Thankfully I had some pretty special people helping, including production manager Becky Stevens, programmer Paul Hayes and designer Val Head, not to mention my friends at laser specialists LM – I couldn't have done it without them.
It was a massive project, and a big challenge, and at the end of it I'm left with a feeling of elation. The 5 dates nationwide attracted crowds of tens of thousands of people. Artistically and technically I couldn't be happier, and I loved working with the crew (and the lasers, but more of that below).
Lasers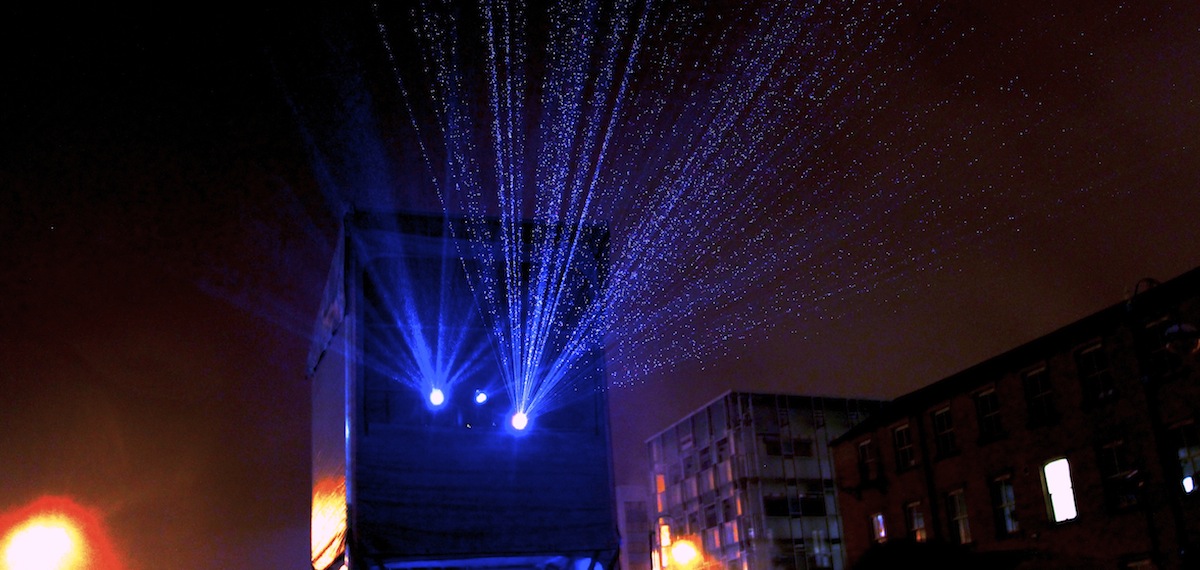 The laser and projector set up for PixelPyros
Yes, lasers require their own heading. I spent a lot of time in 2013 playing with lasers. I bought a small one for practicing with in the studio, and on tour we used really powerful ones. It was quite the challenge to get the lasers working in sync with the projectors.
I used the open Etherdream hardware and programmed it with Memo Akten's openFrameworks addons. (More info on my laser blog posts) I added a lot of new code that I'll be continuing to work on this year with an aim to release for public consumption.
But on the whole it was just a delight to work with lasers. It's such a different paradigm from pixels, and the intensity and colours are spectacular. Expect to see more lasers from me in the future.
Speaking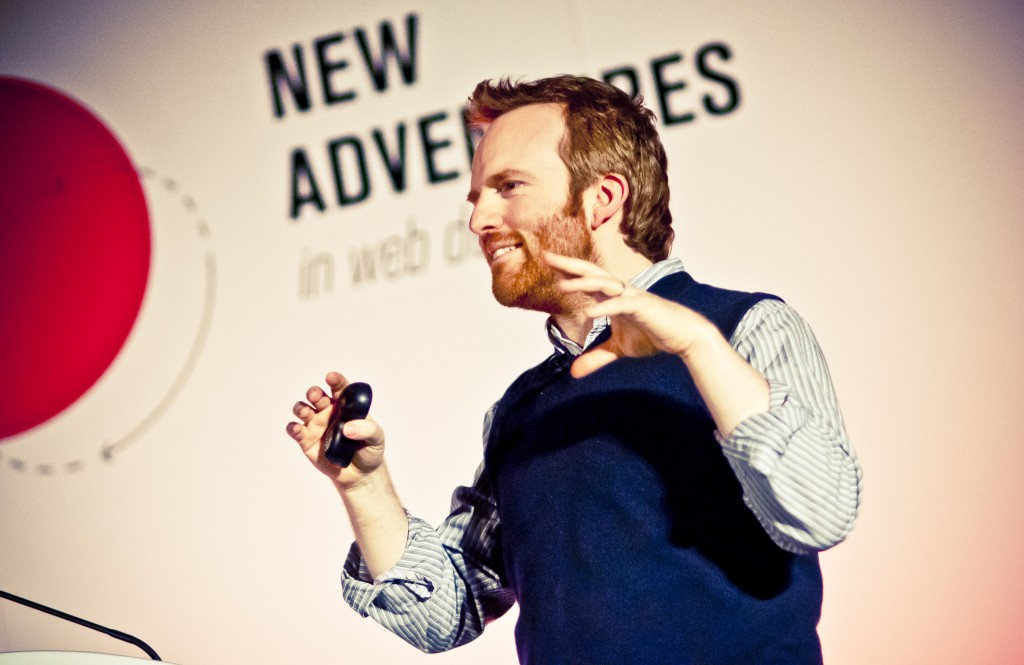 Photo by Geri Coady
I spoke at fewer conferences this year than previous ones, mostly because I've been concentrating on my projects, and speaking can be quite a distraction, much as I love it.
I gave keynote speeches at FOWD London, Web Expo in Surrey, and From the Front in Bologna.
The speaking highlight for me was probably at New Adventures back in January. It was the last one of three and I'd attended all of the others. Simon and his team put so much love into this conference and this is reflected by the warmth of the audience. It was probably the best feedback I've ever had from a conference. And I don't think it was just because I gave away a Commodore 64.
Comedy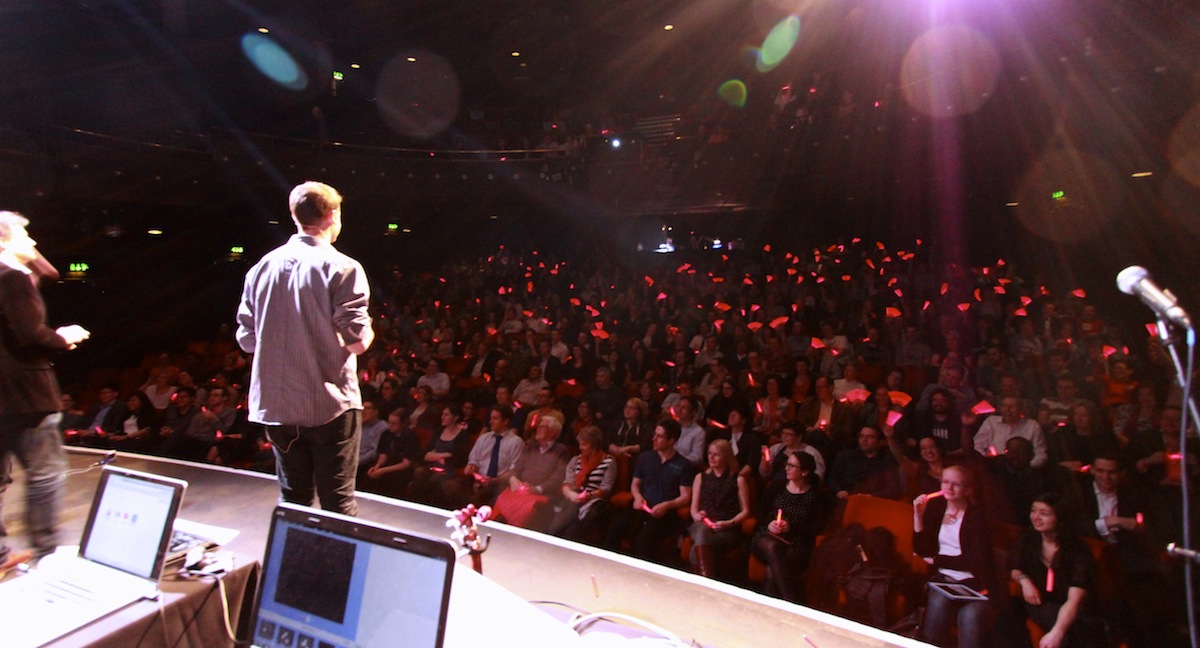 Glow stick motion detection fun at the Festival of the Spoken Nerd
In April I was offered the guest spot at the Festival of the Spoken Nerd's London gigs. It's a great show and Helen, Steve and Matt were so welcoming – I really enjoyed it. I pretty much just did what I do at conferences (and I always overran – sorry guys!) but it was a real learning experience to present creative programming to a new audience in a different environment. I really hope I get the chance to work with them again, and it's also given me some ideas for more performance based projects in the future.
Creative Coding Podcast
There was a burst of activity between February and April where my co-host Iain Lobb and I produced a 30 minute podcast live every week. We got some great guests and I liked the new shorter format, but it was still a bit stressful grappling with the various bits of slightly flaky technology to pull it together.
We've made the decision to put it on hiaitus for a while, but I'm sure we could be persuaded to bring it back. Do you miss it? Let us know!
Art projects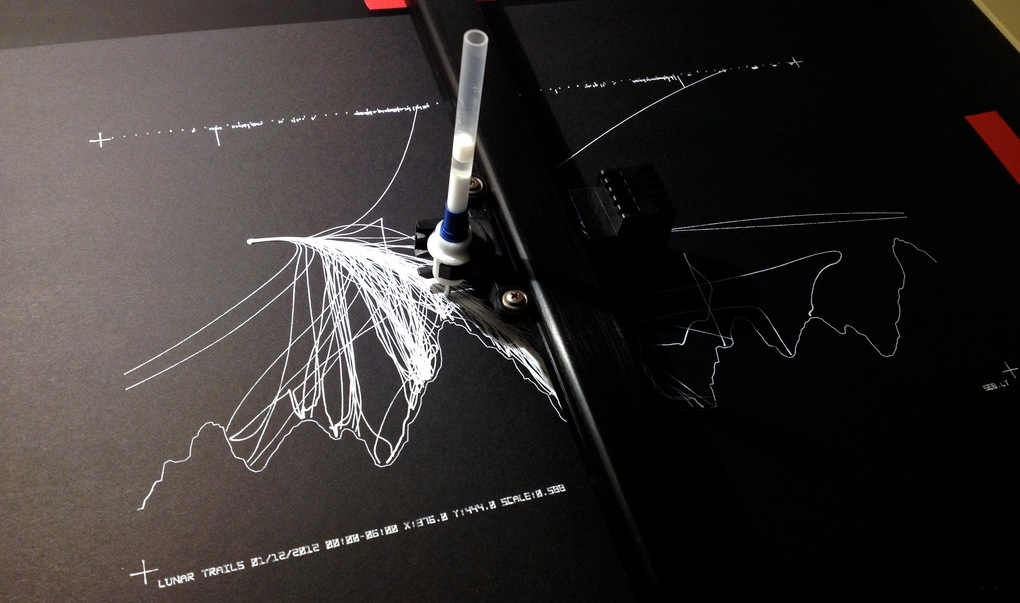 One off Lunar Trails prints, hopefully going on sale in 2014
Apart from PixelPyros, Lunar Trails also had an outing in Brussels in November at the gorgeous arts venue BOZAR. It'll be travelling more in 2014, more information on that coming soon.
I also spent a large part of 2013 working on one-off prints, made using a plotter from the 80s. Putting them up for sale has long been on my list of things to sort out – hopefully this year!
My other big project PixelPhones was on the back burner a little, although I expect to revive that in the coming months too.
Awards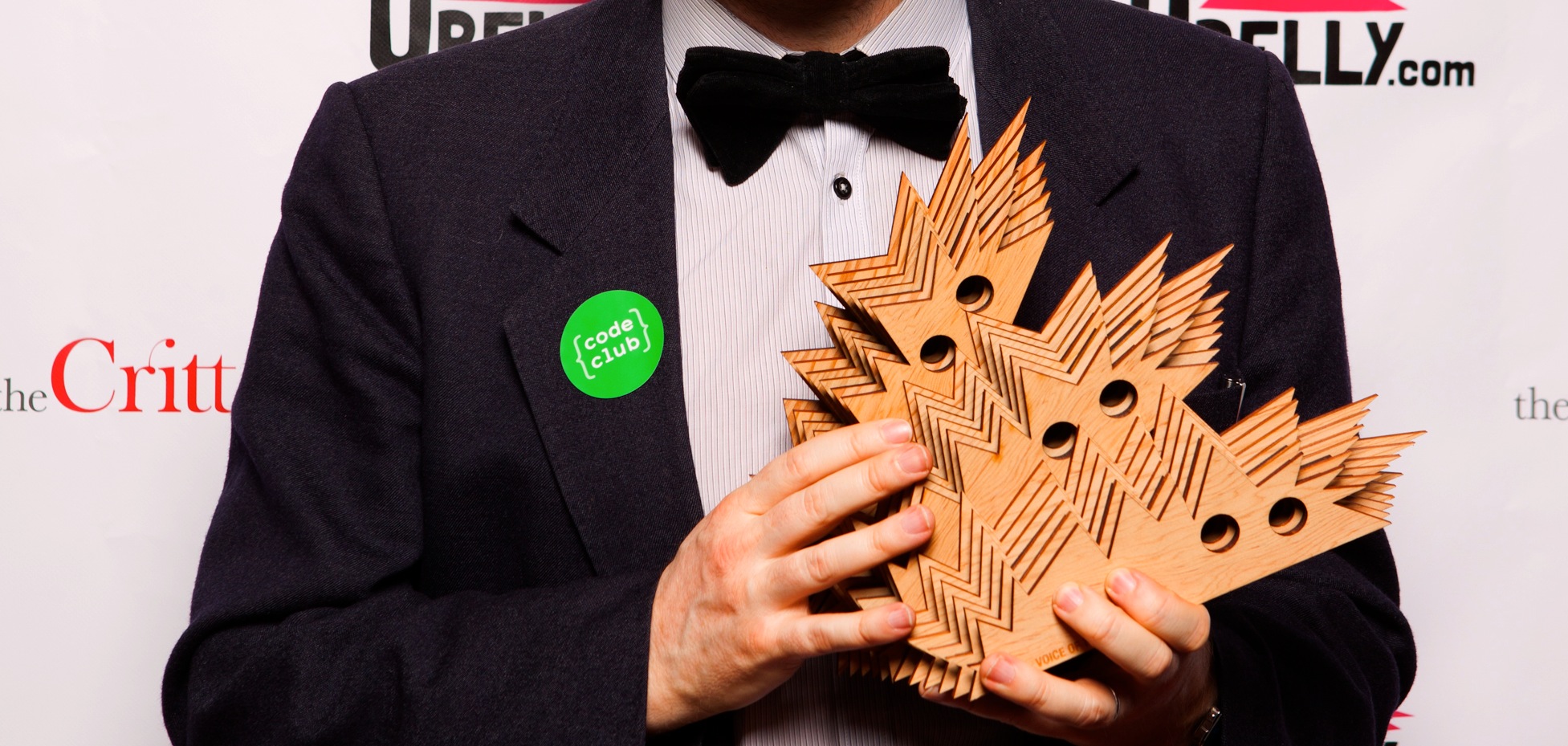 Photo stolen from Microsoft
In June I was amazed and honoured to win 3 Microsoft Critter awards! Developer of the year, Voice of the year and Web Personality of the year. Truly astonishing.
Coverage
In March, there was a profile of me in the Make blog, and in December Leila Johnson interviewed me for Hack Circus.
I was also on Canadian national radio – CBC's Spark program talking about creative coding with Nora Young.
I was a guest on Stacey's Bitchcast and Happy Monday with Sarah and Josh, as well as loads of radio interviews during the PixelPyros tour.
US visa
It's been a great year, but it's not all good news. You may remember that in 2012 I had a bit of trouble with US immigration, and now I can no longer enter the country on an ESTA visa waiver. And when I applied for a visa to visit for the Eyeo festival it was refused! I'm not sure how to fix this one, but I'll be finding a good lawyer to try to figure it out, maybe next year. Full story on the podcast.
Workshops
I set up a brand new workshop this year all about making games in JavaScript and I love teaching it! I haven't had as much time for running workshops as I usually would, but I've taken my CreativeJS training to the BBC, Lego and PA Consulting.
My friend and regular collaborator Val Head has taken on teaching my CreativeJS for designers workshop in the USA (and possibly even in the UK this year!).
And expect more UK courses from me this Spring. Sign up to the mailing list if you want to be the first to hear about new workshops.
CreativeJS.com
The CreativeJS.com site has had another brilliant year with nearly half a million visitors, and there's a fantastic team of writers covering all the latest and funnest JavaScript projects and tutorials.
What's next?
2014 is already shaping up well, net magazine are running a big feature about me and my work in the March edition, I've got the GEEK festival's residency for game-making artists running until the end of February, more CreativeJS workshops, another laser based project in the middle of March, and I've been invited to install Lunar Trails in a gallery in France throughout April and May.
Speaking of Lunar Trails, the engineer that built the hanging plotter with me, Paul Strotten, is currently designing and building a delta 3D printer with a view to selling it. It looks absolutely amazing – his stuff is always just really solidly made. So I expect to be playing with 3D printers this year.
2013
So to summarise, I've worked very hard in 2013 and it's been rewarding. The only things I'd like to change are to be able to put more time into my code to make it more reusable and contribute better to open source projects. But on the whole, it's been great – let's hope things continue this well in the future.