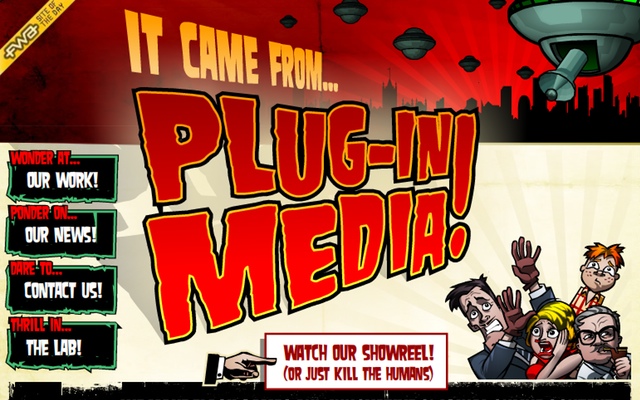 Around 10 years ago I set up a company. It didn't seem like a big deal. In fact, it was merely a tax entity for my freelance career. I had this idea that I could sell a customisable web site service where you could choose which options to "plug-in" – hence the name Plug-in Media.
I never really planned for it to expand any more than just me but things started to take off when I partnered up with the creative genius Dom Minns. Ours was a highly fruitful collaboration – with his imagination and creativity, and my technical background, a period of high quality productivity ensued.
Later we were joined by kids' digital specialist Juliet Tzabar and her skills and experience led to the project that won our first BAFTA – Big and Small for the BBC.
I was involved with some really fun projects but as we became more and more successful I was spending more of my time doing "business stuff" – meetings, accounting or managing people, and less of my time actually building things. It was becoming harder and harder to do the things I loved – my side projects, blog posts, writing tutorials, open source libraries and travelling the world speaking at conferences and sharing things that I have learned. I was becoming unhappy.
So over the last few years, I've been gradually less involved with the business. As our work diverged and we began moving into slightly different areas, I felt I had become less useful to them. So last week I finally sold my remaining shares back to them, and now I am no longer part of Plug-in Media.
It's quite a strange feeling, but not a bad one. Separately we are both flourishing. They're busier than ever with amazing projects for clients like the BBC, Sesame Street, Nickelodeon, and now have 3 BAFTAs, the most recent for the Psychoville website. And I'm really enjoying my new found career as a digital artist, along with the increasingly ambitious projects I take on, like PixelPyros and Lunar Trails.
I'm proud that I had a part in creating such a great company, but it's no longer mine – their success is now entirely due to the hard work of their current directors.
So I wave goodbye to my friends at Plug-in Media. Good luck, and I wish you every success on your onward journey.