It's been 5 years to the very day since my very first post, and I must admit, it seems like a very long time ago. Now I want to hear from you – my dear readers. But first, please indulge me this short retrospective.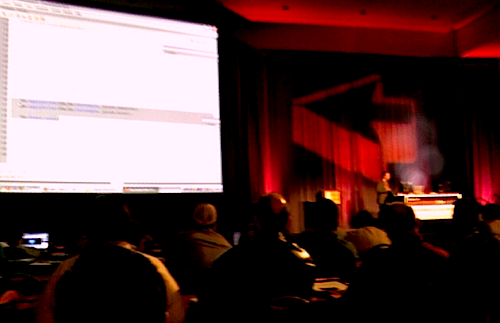 A picture from FlashForward 2006. Yes, that's how good mobile phone cameras were back then.
My first post was right after my first professional speaking engagement at FlashForward Austin 2006. I spoke twice at that conference. And thank goodness I did – my first presentation was about my 3D work in Flash, (all AS2 and way before Papervision3D) but I got nervous and finished way too early.
Thankfully the second session about particle effects went much better. I realised that I didn't have to appear professional, I could just be myself, stupid jokes and all. That's probably the best advice I have to any budding speaker: don't take yourself so seriously!
And thank goodness I got that second chance – I was delighted and amazed that I got the highest feedback rating of the whole conference. And the rest, as they say, is history.
I've recreated that particle presentation many times, in AS3, Processing, oF and most recently JavaScript. There's just something about it that is great fun to teach. Accessible to designers but visually stimulating for experienced programmers.
But I digress. There are now over 250 posts here, and it's quite a random collection. A lot are out of date but many are still relevant. Despite the fact that I now have many outlets – the podcast, CreativeJS.com, Twitter and Google+ – I'll still post here from time to time.
This will be where I talk about my projects like PixelPhones and Pyros to the People. And I'll be talking a bit about my various travels and the incredible people I meet.
I also really wanna hear from you – apparently I get 30-40K monthly uniques and 2,500 subscribers to the RSS feed, but with all the changes in the industry, I don't feel like I know that much about you! What's important to you? Do you get anything out of these random mumblings? Is there anything else you want me to talk about?
Leave me a comment or email me privately (seb@leedelisle.com) and here's to the next five years!