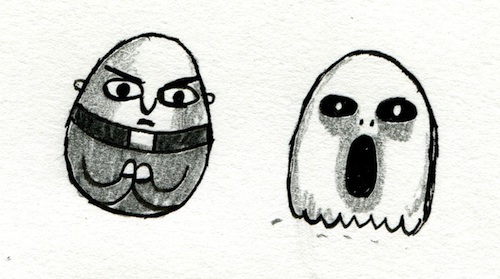 The angry exorcist and ghost graphics by Jonathan Clapham
Yesterday was Aral Balkan's Update conference as part of the Brighton Digital Festival. I don't think I've ever been to a conference where organiser sings a song to open the event! (with a full live band I should add!)
It was a really fantastic and enjoyable conference with a great mixture of different presentations, panels and musical interludes. Although I found Aral's musical number a little cringeworthy (sorry Aral!), I admire the guy – and why can't he have a little fun at his own conference? 🙂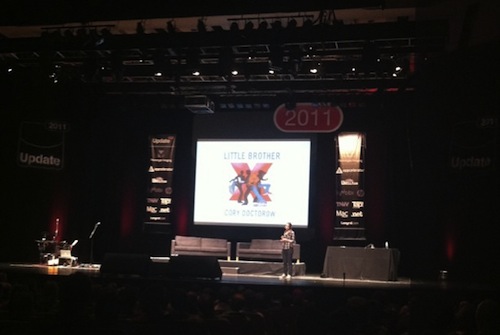 Anna Debenham kicking arse at Update, photo by Jeremy Keith
I presented a session about Corona; a mobile development platform for iOS and Android that is really good at making games and simple toys. In my session I built an Angry Birds clone – "The Irritable Exorcists" with graphics made by my nephew Jonathan.
I love Corona – like any simple accessible platform, it has limitations, but if it can do what you need, you can produce excellent results very very quickly indeed. It's very good at moving bitmaps around (with GPU acceleration) and has Box2D built in, so it's perfect for an Angry Birds type game.
I know the session was recorded – I'm not sure what Aral will do with it. But you can download the code and assets here. You'll also need the Corona SDK to try it for yourself.
It's naturally pretty rough around the edges. Click and drag the exorcist back to play the game. Oh and you need to run it in the iPad simulator. (Select iPad from the drop down of devices when you open the folder).