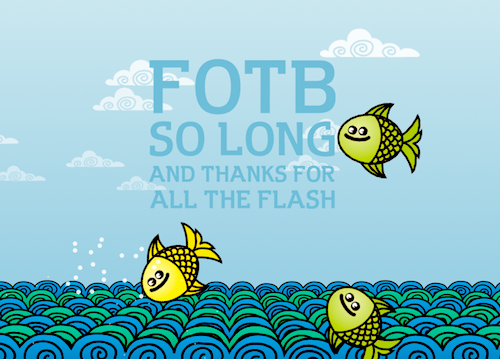 Mark Burvill's final message to FOTB (made with his new found skills from my CreativeJS workshop)
FOTB was awesome this year, and it looks like this will be the last, at least in this guise. I'm sure that John will do something just as awesome next year 🙂
It was an intense time for me as I had a full day of CreativeJS training, and then I had to frantically finish my PixelPhones presentation (blog post coming VERY soon!). As if I didn't have enough on my plate, Iain and I recorded a live podcast featuring interviews with Lee Brimelow, John Davey and Keith Peters!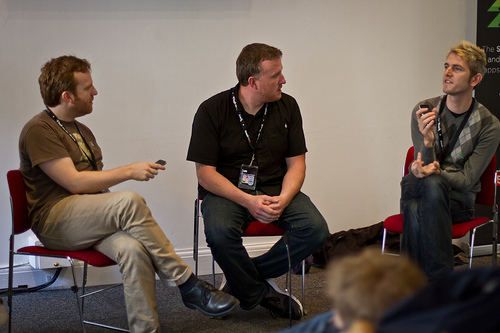 Me and Iain cross-examine Adobe evangelist Lee Brimelow. Photo by Marc Thiele
And despite my busy-ness I still had time to see a few sessions.
My favourite Texan Jared Ficklin pulled out all the stops with some amazing physical interfaces, including this array of smoke rings.
I also caught Josh Davis – I haven't seen him speak for a while, and it was nice to see his approach and influences. He also spoke about the IBM Watson visualisers he produced with Brandon Hall.
There were so many highlights though, Eva Lotta-Lamm's creativity session, Keith Peters talking about tools (no sniggering at the back!) and Gmunk's insane trailer for the conference with contemporary dance and computer controlled LED lights!
The elevator pitchers were as amazing as ever, the one that particularly stands out was Mike Cobb's beautifully presented physical interfaces.
It was also nice to see some of my friends from outside the Flash world in attendance, shaggy web designer Elliot Jay Stocks, JavaScript guru Remy Sharp and UX-pert (hehe) Sarah Parmenter (who's running courses in NYC at the same time as me).
There's such a friendly vibe at FOTB and there aren't any other conferences quite like it. The location, speakers and just general atmosphere is so fun and welcoming. That's the best thing about the Flash community and I hope we can retain that into whatever this becomes. But if anyone can do it, John can. I look forward to seeing what he comes up with next year.