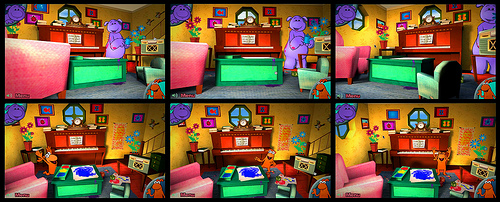 You may have noticed that I've been a little quieter than usual over the past few months. And for that, I'm sorry. But there's a very good reason for that! Me and the my very talented colleagues at Plug-in Media have been hugely busy working on the biggest and most ambitious Papervision3D project we've ever attempted; Big and Small.
Big and Small is a comedy TV show for kids (3 to 6) about a big character (called Big) and a small character (called Small) who, despite their differences, are the very best of friends.
There are so many details that I want to share, I'm not sure where to start! There's the close collaboration with the BBC and Kindle (the TV show's production company). And then there's the studio sessions with Lenny Henry (famous UK comedian) who provided the voices, and the recording of Dom's (Plug-in's creative director) band for the music game. Not to mention all the incredible artists, coders and producers at Plug-in who all did an amazing job of bringing it all together.
But as the head geek at Plug-in I'll concentrate on the technology. 🙂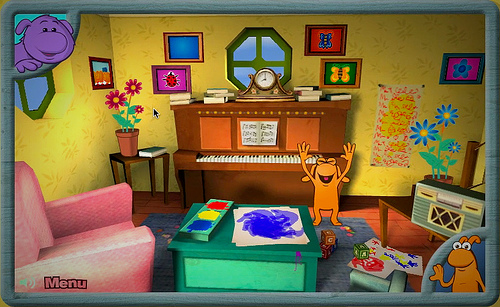 The first hurdle was to recreate the Big and Small house in Papervision3D; tricky, given the cluttered, busy and warm look that Dom came up with (our creative director). We spent about a month just getting the model for the living room to look right.
Many things in the living room are point sprites; a 2D image of an object that looks the same no matter which way you look at it (like the flowers). We built our own PointSprite object that uses Papervision particles to render this.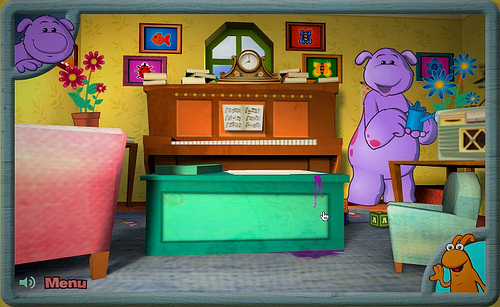 Big looks 3D and changes as you move the camera around, but he's also a 2D point sprite. Our animator Ben rendered him on the timeline spinning around, so we work out the angle of the camera and jump to the relevant frame.
We really wanted to make sure that any 2D graphics seamlessly fit in with the 3D world, not only stylistically but also technically. We created custom 3D mesh animation to make the bed spring up and down in reaction to a 2D Small jumping up and down.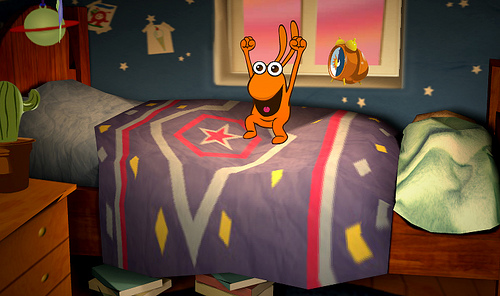 There are many clever effects that took ages to program, and although you wouldn't necessarily notice them, we like to think they add a certain quality to the project :
The mobile in the bedroom with a custom built verlet physics system:

A custom mesh animation system for the radio in the living room, allowing our designers to animate in 2D and apply it to a 3D mesh in real time.
The mirror in the bathroom with realtime reflections.
The toothpaste particles that collide with the walls and furniture.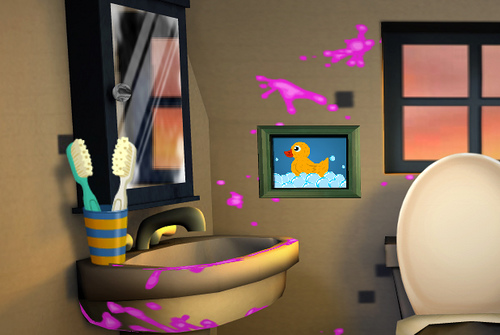 The lighting that changes in the bedroom when the blind is closed.
It was a massive project, and phase one alone was over 200 days of coding, not to mention the artwork, 3D modelling, sound design and music.
And brilliantly, the BBC were so pleased that they've also commissioned phase 2 and we're well underway with it. Phase 1 brought you into the house, but phase 2 takes you out into the garden, with magical plants, a reflective pond, and a Doom-style mysterious woods to explore!
You can see a little more in this (very rough cut) of a behind the scenes video, exploring the less geeky aspects of the project, including collaboration, concepting, and user testing.
It's been a brilliant experience, Rebecca at the BBC has been a joy to work with, and it's been really exciting to stretch what is possible in Flash and Papervision3D. I'll let you know when phase 2 is released.
And I really would like to give major kudos to everyone on the Plug-in team that worked on this, I'm very proud to work with such talented people :
Juliet Tzabar : Production Director
Dominic Minns : Creative Director
Alan Owen : Senior programmer
Jack Lang : Programmer
Sarah Bird : 3D Modeller
Ben Mantle : Artist / Animator
Cath Lloyd : Animator (lip synching)
Lee Needham-Park : Project Manager
Kate Fowler : Sound design / production assistant
Kirsty, Ellie, Bruce (and Dom!) : Musicians
(Well done guys, you all rock!) And this project will be finished in a few weeks so we'll be open for more projects! Can you use some Plug-in magic for your project? Need some Papervision3D expertise? Drop me a mail. seb@pluginmedia.net.
PS There's an easter egg somewhere in the Big and Small website… can you find it?