I can hardly believe it but this is now the tenth anniversary of my annual review, and therefore I've been blogging for over ten years – how the internet has changed since 2007! Back then it was all about open APIs, personal websites and blogging. Facebook was a tidy and uncluttered alternative to MySpace, the first iPhone had just been released, Twitter was a year old, YouTube was only two, and I had a successful career as a Flash programmer, making Flash games and embarking on my speaking career.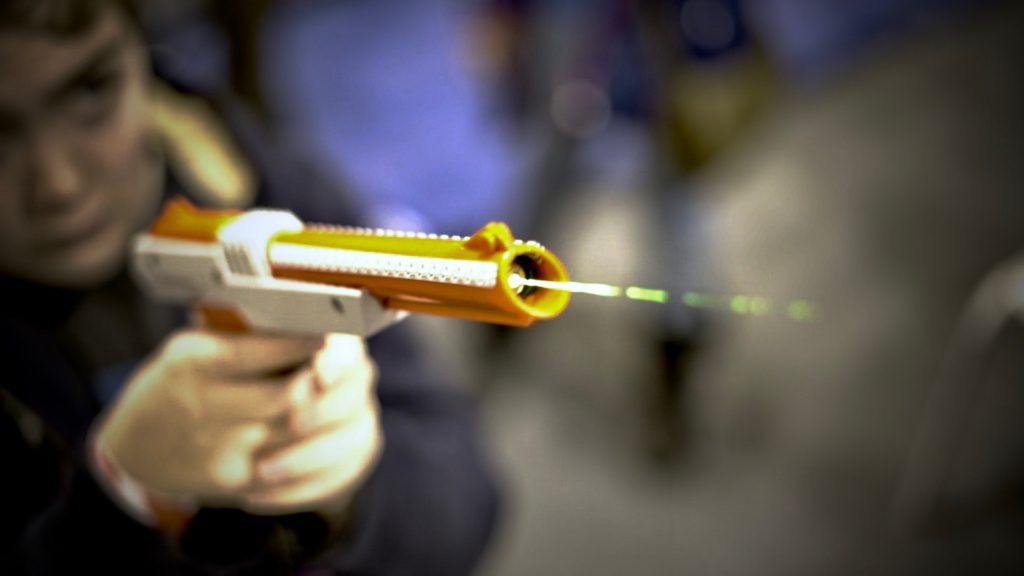 From a personal point of view, it's been a remarkable ten years. I'm in an incredible position now, making a living from creating massive interactive light and laser art installations, a variety of electronics projects, a fun side-line in geek comedy, and regular conference speaking appearances. I could not be any happier.
But this isn't a review of the last ten years, it's a review of this year – 2017! So let's get started.
Light Installations
2017 has been my biggest year yet for light and laser installations, kicking off with Laser Light Synths at Spectra Aberdeen in February. It was the project's second outing, which was developed considerably adding a host of extra synth sounds, including a very 80s-tastic slap bass.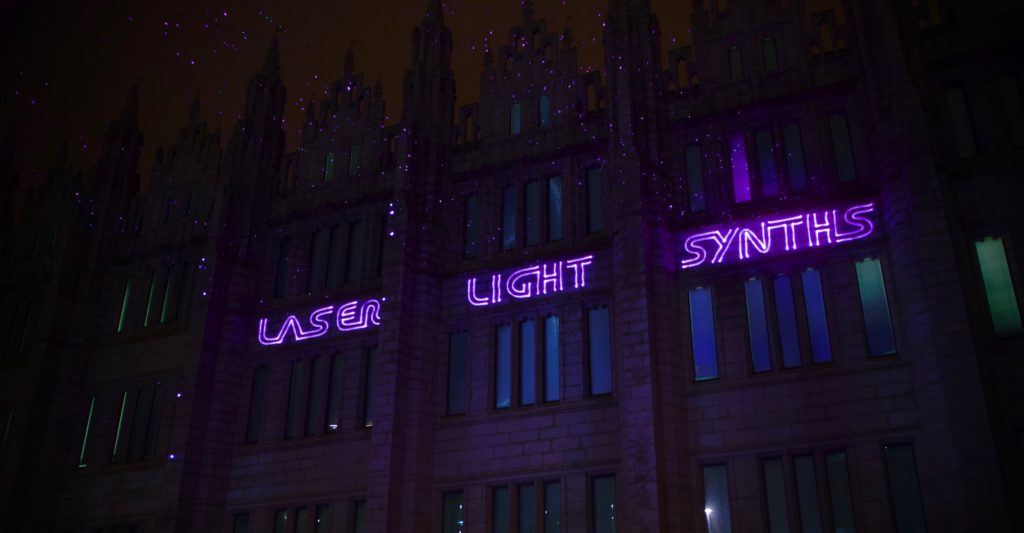 A brief installation at GEEK in Margate for Laser Arcade (including Laser Duck Hunt) and then immediately afterwards, PixelPyros was shipped off to Abu Dhabi with my crew for a two week run at Mother of the Nation Festival. In June, I was invited to project laser visuals on the side of a building for the Glasgow School of Art graduation show party.
Thanks @GSofA for letting me laser up your street party last night! pic.twitter.com/lYWf2W0zjd

— Seb Lee-Delisle (@seb_ly) June 10, 2017
Over the summer I worked on a new prototype project, Lightning Catchers, which debuted at Enlighten Festival Bury. I built 2m long "lightning rods" full of super-bright LEDs and projected laser-generated lightning on the church tower. If you catch the lightning with your rod, it lights up and buzzes. I applied for an Arts Council grant to scale this up to 12 lightning rods but sadly this was rejected – my first failed application!
Lightning Catcher debut went really well! #lightningcatchers #ledlights #lasershow @curatedplace pic.twitter.com/s8IG35GRpX

— Seb Lee-Delisle (@seb_ly) October 20, 2017
As so often happens, this turned out to be a good thing. It meant that I didn't have the budget to produce the full-scale interactive installation for my commission at Enchanted Parks in Gateshead and had to rethink the project. I ended up designing projections that recreated various electrical effects and projected them on to the iconic Saltwell Towers.
I completely re-wrote my laser control code and hired two of the biggest lasers I've ever used and created a 6 minute looping show that was all algorithmically generated in real time. I very rarely produce things that are non-interactive so it was an interesting challenge. Not to mention way easier to set up and run!
Mindfulness Machine
In February I packaged up a new project and sent it to Dublin for their Humans Need Not Apply exhibition. The Mindfulness Machine is a robot that likes to colour in. Based around an 80s plotter, it just quietly doodled away for the four month installation.
It's going to be travelling in 2018, but I can't tell you where to yet…
Dance
R&D with Tim Casson on the interactive dance project Choreocracy continued in December and we have got full funding to finish it up and take it on tour! It'll be visiting several venues in Spring 2018.
Public Appearances
I didn't have as much time for speaking this year but still presented at a few good events. I brought my laser to Render Conference Oxford in March, and Generate London in September. And spoke at a handful of other events throughout Europe.
Although I didn't get the chance to perform Hacked On Classics this year, I did appear at a couple of Evenings of Unnecessary Detail and closed the year with Cosmic Shambles' Nine Lessons and Carols event with Robin Ince. It seemed to go down really well and I expect it to lead to bigger and better things in 2018.
//twitter.com/JamieBGall/status/943574346269851650
Misc
Fun side projects this year included making a hardware single key keyboard and fully restoring an 80s keytar. Sadly the podcast was somewhat neglected; we only managed two episodes! Not sure what's going to happen to that in future to be honest. But it'd be nice to getting it going again if I can.
Summary
I'm not entirely sure how best to document and publicise my work these days. The last few years I've been relying on Twitter more than my blog, but I feel like that is less effective now (not to mention the nazi problem). I should probably redesign this site and update it – the projects page is woefully out of date. And I think I will re-instate my mailing list. It seems the way to go.
But it's been a great year for me, a fantastic mix of projects, all very exciting. And it seems like the art installations are taking off to a point where I rarely have time for conferences.
And it doesn't stop here ; the first half of 2018 is already very booked up. I'm back in Aberdeen for Spectra with more lasers, I've been commissioned for the brand new Science Gallery in London, and I'm performing Hacked on Classics at the Lowry in Salford in May. And there are a few other things that I can't talk about yet…
As the year closes, I'm thankful for the success and the support I've had. Here's to another ten years!
Timeline of 2017
February
Mindfulness Machine install at Science Gallery Dublin
Laser Light Synths at Spectra Aberdeen
Laser Arcade at GEEK
March
Appearance at Raspberry Pi birthday celebrations
Keynote at Render Conference, Oxford
PixelPyros in Abu Dhabi
April
Visited Dublin to document Mindfulness Machine
Appearance at An Evening of Unnecessary Detail – Nintendo Laser Gun
May
Appearance at Hafentalks in Düsseldorf
June
Laser show at Glasgow School of Art
Appearance at An Evening of Unnecessary Detail – Lunar Lander
July
Sent out first Mystery Makers' Box
Restored vintage Keytar
Made Keyboard simulator
August
Bought a new 3D printer
September
Appearances at Berlin and Zaandaam
Appearance at Hackaday, London
Keynote at Generate Conference, London
October
Lightning Catchers debut at Enlighten Bury
Laser show at WestVisions, Duisburg, Germany
November
Official photographer at FFConf
December
Lightning Strikes at Enchanted Parks, Gateshead
Week of R&D for Choreocracy, with Tim Casson
Appearance at Nine Lessons and Carols with Robin Ince.