It's New Year's Eve as I write this, the perfect time for little reflection on the departing year. And although my blog has been a little neglected, the annual reviews are still coming – this is the 8th I've done so far.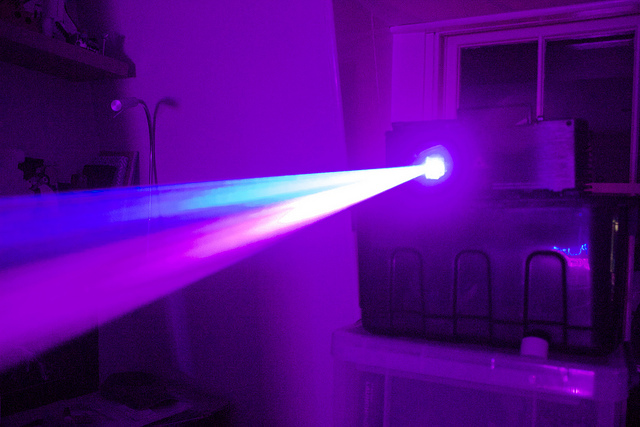 My overriding memory of 2014 is that of variety. Whereas 2013 was mainly taken up with the juggernaut of the PixelPyros tour, 2014 was made up of a series of smaller projects.

Making
And there was a hell of a lot of making stuff. The Lunar Trails project of 2012 was a step up in terms of electronics, but this year I've gone even further, especially with Laser Light Synths – probably the most sophisticated build of my career yet. I even learned how to make jewellery, hammering and bending bits of silver to my will is intensely addictive.
I became a trustee at the local hackspace, BuildBrighton. It's a volunteer run workshop and anyone can become a member. I've met some amazing people there and would never have got into making things if it wasn't for this space.
Lasers
Last year I resolved to work more with lasers, and boy did I keep that resolution!
Starting with the a residency in Margate where I made the Lazer Arcade – an updated shooting gallery with Nerf Guns firing at laser projected targets. The challenging part was figuring out where the nerf darts hit the wall, but it worked well enough and seemed hugely popular at the GEEK gaming festival in Margate.
Smashing laser show
In March, I had the opportunity to experiment with the big lasers again – Smashing Conference asked me and Val Head to come up with something special for the opening of their conference at the Oxford Town Hall. We decided to make a traditional animated opening sequence on the main screen, that mid way through broke out into a laser light show projected on the ornate half dome interior.
I felt that I had no choice other than to turn the pipe-organ into a graphic equaliser.
Another highlight for me was making a massive laser Flappy Bird clone that responded to the audience applause. Clappy Bird. (Sorry!)
Lunar Trails in France
In March, Lunar Trails travelled to France for a couple of months at the Festival Bouillants in Rennes, and then at the ArtRock Festival in St Brieuc. We completely rebuilt it from the original machine, with the engineer I often collaborate with Paul Strotten.
Paul and I have worked together a lot this year, whether it's making servo drivers for his 3D printer or the hardware design for the Laser Light Synths. I'm sure we'll continue to work together in 2015.
Smashing music in NYC
We'd set ourselves a tough act to follow as Smashing again asked us to provide an intro to their New York conference in June. I knew that I wanted to work more with music (Laser Light Synths was forming in my mind) and so I offered them a crowd controlled glow-stick band.
Again working with Val, the audience were split into 4 groups, and each one controlled a difference musical instrument. The motion of their glowsticks determined how energetic each part was. Sadly ongoing visa issues mean that I couldn't be there in person but Val did a stirling job in my absence.
Lighthouse residency
In May I started a 3 month residency at Lighthouse, the internationally acclaimed arts organisation here in Brighton. I spent the first few weeks working on the 3D printer that Paul had made, so it would be ready in time for the Hack Circus event, (run by fellow resident Leila Johnston) where we printed out brain activity data in 3D. Here are Leila's reflections on the residency and a nice interview with me and Paul Strotten.
I also worked with another resident, Coralie Gourguechon who made some wonderful paper electronics projects.
Laser Light Synths
Half way through my Lighthouse residency I got the go-ahead for Laser Light Synths for the opening weekend of the Brighton Digital Festival. Just like PixelPyros, it's a large outdoor installation with lasers, except this time, the public get to make the music.
I built four musical instruments that were literally smothered in super-bright LED lights, and had a touchable surface. I wanted them to be easy enough for anyone to play, and yet still giving you the ability to genuinely express yourself.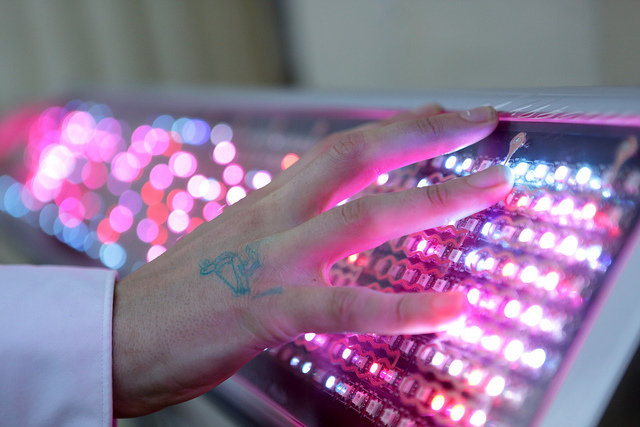 I spent weeks building the synths, and took over pretty much all the spaces at Lighthouse, and they kindly allowed me to extend my residency into August so I could finish.
Again, engineer Paul Strotten helped me with the design of the hardware, and, with his help, I managed to get a very high standard of production which was really satisfying!
On the night, we set up a massive PA system, and lasers (of course lasers) that responded to you as you played the instruments. Production Manager Becky Stevens, who worked on the PixelPyros tour, was again on hand to make sure everything ran smoothly.
It was probably the most well received project I've ever made. I'm looking forward to taking it on the road in 2015.
Dance Hack
At the end of September I was invited to a day long hack day organised by South East Dance. There were about 20 or 30 of us, some digital artists and some dancers and choreographers.
It was there that I met Tim Casson, and we got along like a house on fire. He's been working with public interaction in dance with projects like his world record breaking "The Dance We Made".
We immediately started coming up with ideas for how the audience could control the dancers in real-time using mobile phone controlled top-down project. We knocked up a little prototype and it worked great!
We've applied for funding and hope to take that further next year.
ST4i
The year ended with a bang – I put together a hands-on Internet of Things workshop called Stuff That Talks To The Interwebs, or ST4i. I was a bit concerned that it would be a bit niche, but I shouldn't have worried. The first batch of tickets sold out in 2 minutes. There'll be more on January 6th, leave us your email if you want a reminder.
Speaking
A bit less speaking that previous years, primarily due to the intensity of the projects. But there were still a handful of appearances, in Germany, Belgium, Holland, and closer to home in Cardiff, Cornwall and Bournemouth.
The Creative Coding Podcast returns
Right at the end of the year, after an 18 month hiaitus, me and Iain recorded a new episode of the Creative Coding Podcast. We saw that the last episode had over 10,000 plays so we should probably get back to it. It was great fun and I expect we'll be producing more throughout 2015.
Summary
On the whole it was a very good year. The variety and number of things I've made has been a little mind-blowing. I feel a sense of achievement, tinged with a slight frustration that I haven't documented anything well enough. I still haven't even edited all the footage from PixelPyros in 2013!
My website is due for a spring clean, and I really need to make some of the code I've written more easily available to use (particularly the laser stuff).
I'm going to try to sort this out over the next few weeks, but wish me luck!
What's next?
I'll be focussing on my ST4i workshops for a while, but then later in the year I have a few enquiries for PixelPyros and Laser Light Synths, so I hope to take that around a bit.
I have a few other project ideas, but nothing concrete yet. So it's all quite up in the air. I feel a responsibilty to let Laser Light Synths out – perhaps 2015 will be like 2013, except with a Laser Lights Synths tour instead of a PixelPyros tour.
I also have an idea that is a continuation of LazerArcade, except with paint-ball guns. What could possibly go wrong?
Whatever happens, I'm excited. I'm massively lucky and in an incredibly priviledged position. I only hope I live up to the expectations.
Happy 2015!