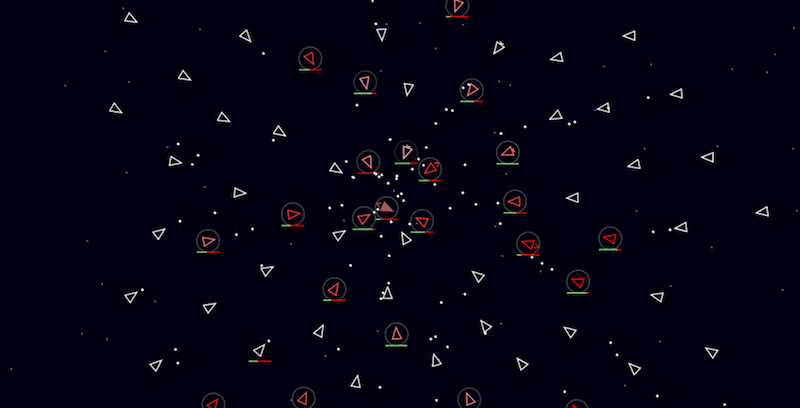 Haven't most April fools jokes got a bit silly lately? They're more just funny than actually fooling you. This year, I thought I'd raise the bar with a completely fake MMO Asteroids, but I could never imagine so many of you would be taken in. I'm so sorry.
It all started around a year ago. There's an example on my CreativeJS course where circular particles exert a little force on each other and they wander around rather pleasingly. An attendee decided to make them triangular and point in the direction that they're moving in and voila! A system of circling, avoiding, flocking AI bots emerged.

All I had to add was some basic collision detection, bullets, and despite the simple behaviour rules, it was very pleasing, and very convincing. So I thought I'd make it more obvious – I added a "kill mode" that kicks in after a random time – surely you'll realise it's fake when every single other ship turns on you and mows you down? But instead, many assumed it was anti-spam or AI bots gone wrong.

Many amazing comments followed on twitter, most really impressed, a couple a little dismayed that everyone was picking on them. I couldn't help but feel sorry for Ekene Ijeoma who simply tweeted 'help' as all the other ships turned on him. (It's his screen shot in the header).

But some suspicion emerged. Kudos to Jon Schall who was the first commenter on the post. But even Jon didn't quite realise it was an April fools for a while (he blames lack of coffee).

There was a steady stream of traffic during the day, but things really took off in the evening when it made it to the top of Hacker News. The comment thread started in awe, then confusion, and then anger as people realised it was fake.

I must admit that it made me giggle reading the thread as various theories emerge. The "kill mode" starts randomly, and yet many thought that their actions were somehow triggering it. Someone suggested clearing their cookies to reset the weird occurrences. But of course, one or two figured out that you could pull your network cable out and the game still worked fine. 🙂

The sad truth is that if it was real, it probably wouldn't be as dynamic or as much fun, and there'd certainly be fewer players. Rob Hawkes has made in-roads with Rawkets, but making it reliable, scaleable, and most of all fun is a huge challenge. Maybe I'll try it for real some day and find out (not that I'll ever be able to convince you that it's real from now on…)

It's been great fun, a fascinating experiment, and I hope you had fun. And if you were taken in, I really hope you see the funny side. The only question is, how will I get you next year..? 🙂

[UPDATE] just thought I'd add this highly amusing thread from OverClockers

This entry was posted in