I must admit to having the mid-winter blues a little right now. And for no real reason! So what better time to remind myself of all the good work I did last year? 🙂
2008 started with an incredible development in my life – I was invited to join the Papervision team. I was thrilled and scared, but slowly, throughout the year, I've got to know the code library and the other team members much better. Hell I even feel like I can really use this thing now! 😉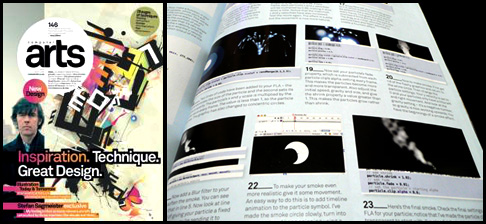 In February I had my first article published in Computer Arts magazine, followed by my first conference of that year, FITC in Amsterdam, with possibly the last ever gig with Flash rockstars Phlash5 (which was also my birthday IIRC!).
In March my LED particle experiments with the Arduino caused a little spike in my web stats with over 6000 views on my youtube video.
April brought 2 transatlantic trips, the first to visit MLB.com (Major League Baseball) as we continue work on a Papervision 3D visualisation for their website. While I was there we also saw a Yankees game and I visited my friends at FlashCodersNY. And then I got a last minute call from Shawn Pucknell and before I knew it I was on a plane to Toronto for FITC in April where I was interviewed by a muppet. Literally.
The MLB project was delivered in June after three solid months of work (including a new line material for PV3D which still works despite my caveat) and the project was delivered. It was a perfect project – a challenge but not too impossible, and MLB were an absolute joy to work with.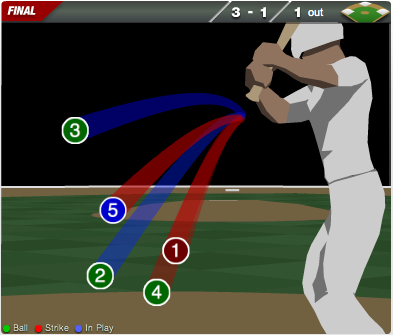 June also brought one of my favourite conferences, FlashBelt in Minneapolis, run by the ever genial host, Dave Schroeder. I presented two sessions at FlashBelt, the first was a brand new Papervision session, and the second was a wave goodbye to the ever popular particle presentation, which I vowed would be the last time. The piano karaoke was a particular highlight.
In July I flew to Cologne to teach two days of Papervision. While I was there I also visited Andre Michel and Joa Ebert at Hobnox. And later that month we were nominated for two FlashForward rubber arrows, for MLB and (my pet project) the digital interactive firework display, Pyrotechnics to the People.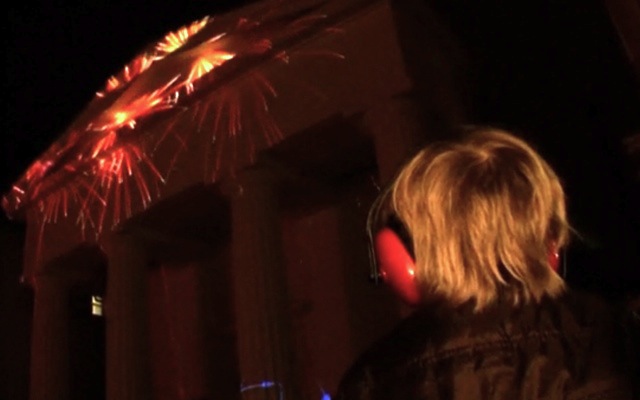 Part two of the particle tutorial for Computer Arts came out in August.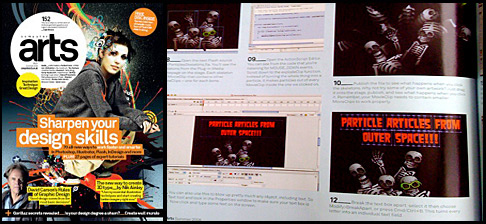 For the rest of the year, my work at Plug-in Media was dominated by our flagship project for the BBC, Big and Small, but I'll be telling you more about that once the final phase has been delivered.
In fact, my company Plug-in Media has been growing and growing throughout the year; at the end of 2008 we had a team of 12 working on Big and Small! And there were many projects I was hardly involved in! Including several for Philips and the Museum of London, so I guess my company must really be expanding!
With September came a brief foray into the dark side for Microsoft's ReMix in Brighton followed by the annual influx of international Flash superstars into my home town for Flash on the Beach.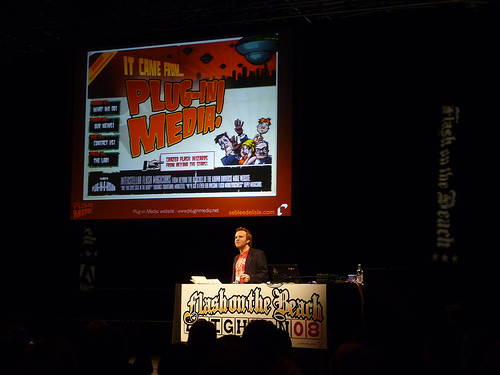 Later in September, I started work as Technical reviewer on Keith Peters' new book, AdvancED Actionscript Animation. Which was a joy to work on.
Proof that Seb ran his first 10k race from ribot on Vimeo. [sorry, video no longer available]
Things didn't let up in October as I worked towards a 10K run for Cancer Research. Thanks to you guys I raised over £750! And I so enjoyed it I'm running a half marathon next February. Later in October came the final conference of the year with Aral's head, truly breaking boundaries in the virtual conference field. And I got to see the Magic Circle in London. Which was nice 🙂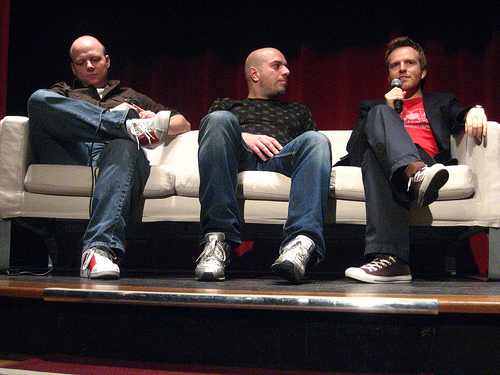 November brought some local excitement with the DIMA:S digital media awards in Brighton where the Plug-in scientists brought a newly refined glow-stick voting system to judge the animation category.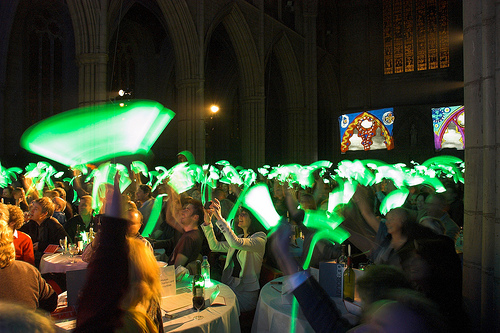 And it was an especially exciting night for me – the local user group that I run, FlashBrighton, won the strongest community award. In fact, FlashBrighton has just been going from strength to strength this year, with some amazing projects, AS3 robots, genetic algorithms, and many, many others! With weekly meetings, there really is much too much to talk about here! However, in December, we really outdid ourselves with our BigScreenBonanza, the biggest free geek event ever in Brighton with a 200 seat capacity and cinema style venue.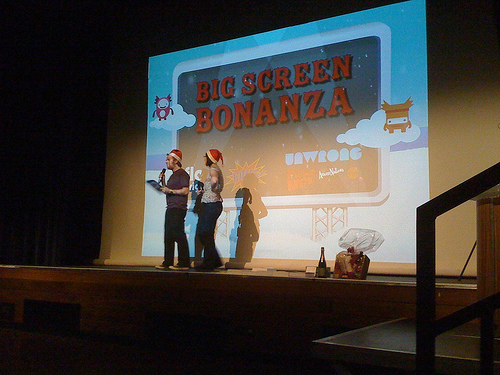 In fact, there really was no let up in December, I built a particle based sparkly Christmas card for the BBC and put together a Christmassy Flash augmented reality demo for local geek group £5app which utilised my Papervision snow.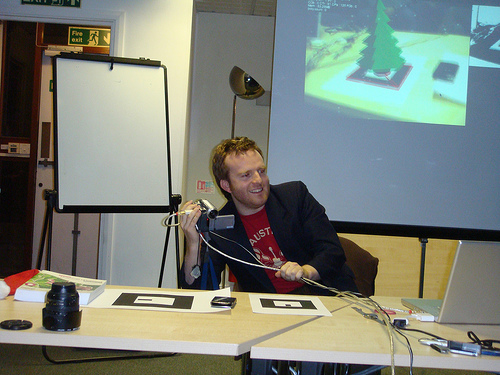 In fact I meant to write up that demo, but seeing as it's here on vimeo, perhaps I don't need to?
Festive £5 app: Seb and his magic particles from ribot on Vimeo.
And considering everything that I've done in 2008, it's not really surprising that I felt fairly exhausted over Christmas. It's great to recount all the things I've achieved and the cool projects I've been involved in. In these cold winter months I'm lacking motivation, and it's easy to just focus on the things that I wanted to do but didn't quite get to. But at the same time I think perhaps this year I need to concentrate on my personal life a little more – I am getting married in March after all!
But with so many things I want to learn – iPhone development, Unity3D, not to mention the ongoing work with Papervision, I suspect I'm just going to have to get used to being busy… 🙂