And it is with a mixture of sadness, exhaustion, and joy to have been host to such a great many Flash friends from all over the world.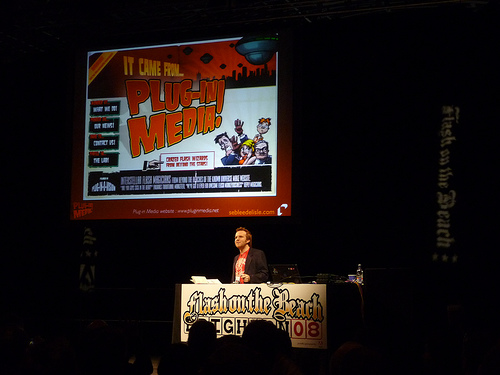 The conference was pretty damn amazing, and it was incredible to catch up with my great friends Mario, Ralph, Keith, Rob, Jeremy, Carlos, Chris and the many, MANY others! My session seemed to be very well-received, although I was actually quite nervous. The room was packed and they were stopping people coming in, so I guess I felt a bit more pressure than normal. And of course there was the 20 second code challenge, which didn't help 🙂
Peter Elst videoed the whole thing on his mobile phone! And it's remarkably good quality. So here it is if you're interested! Download the source files.
Seb Lee-Delisle – Papervision3D Simplified from Peter Elst on Vimeo.
There was one disappointing disagreement, but I'll save that for a full blog post later (and no, not with Jonathan Harris – I actually missed his session so have no idea what the controversy was all about).
In the meantime, I'm going to Gozo for a week's holiday with Jenny. So I'm going to be a bit quiet and I'll see you next week!