Yes! I've nearly reached my target – thank you SO MUCH everyone who has sponsored me so far. I very much appreciate your generosity and can assure you that your contribution is going to a great GREAT cause – Cancer Research UK.
BUT I'm not there yet – PLEASE sponsor me if you haven't already!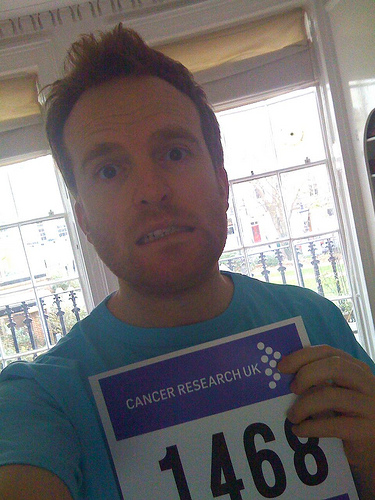 Feeling prepared for my 10K run. And cyan (0x00ffff) always was my colour.
The run is tomorrow at 10am, and I have to admit to feel a little anxious about it! I'm not quite as prepared as I'd hoped I would be and I'm also feeling quite run down right now (having been working way too hard on our current project – see my previous post for a sneak peek on that one.
But! I promise you I will make it across that finish line one way or another 🙂
And if you haven't already, please consider sponsoring me on my justgiving page.