Hehehe sorry about the z in reprezent. I couldn't help it. You can take the kid out of the streetz but you can't take the streetz out of the kid. Or something. But in my case we're talking about the "streetz" of Lower Morden, so it doesn't really count.
Ahem.
Anyway, I had a great time yesterday at the head conference, Yahoo's Steve Webster, Papervision founder Carlos Ulloa and myself had a nice little chat with Aral.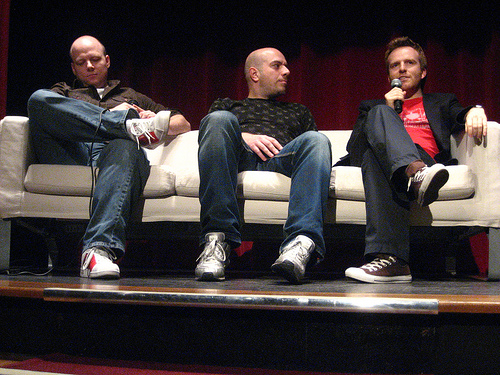 Carlos is listening, but Steve's losing interest. Unsurprisingly. 🙂 //flickr.com/photos/adactio
Answering such questions as "What's the point of Flash", "What can you do with Flash?" and "What is this Flash thing anyway?". Explaining the reasons for Flash's existence actually made me realise how out of touch I am with the rest of the web world at large. All of the projects we produce at Plug-in are so Flashy I never have to think about my options – we simply couldn't do what we do with any other technology. But that does seem to give me a somewhat narrow perspective. I'll definitely try to keep more up to date with new developments in non-Flash in the future.
But – it was great to see the Magic Circle headquarters – it's an amazing building, and some great sessions.
I'll also be giving my online presentation tomorrow afternoon at 3pm UTC in room 3, it should be really fun working with this format. It'll be quite a short session, but hopefully plenty of time for questions and discussion.
So join me, if you want to get started in Papervision3D or if you'd like to see our current work in Flash.