Note: this post is many years old but I've left it here for historic reasons – it's the first time I made an interactive fireworks project which eventually led to the development of PixelPyros and Electric Laser Flares
It seems like I've been promising to write this one up ever since November! And now I can finally reveal the official video of the event! Which gives me the perfect excuse to get around to this blog post. 🙂
So it gives me great pleasure to present Pyro(technics) to the People – The Movie 🙂
Pyro(technics) to the People was an massive interactive digital fireworks display that was here in Brighton last November 5th. (Which is Guy Fawkes Night for readers outside the UK). It was squeezed kicking and screaming into the world by my team at Plug-in Media, and it was made entirely in Flash.
Ever since seeing the awesome work with Graffiti Research Labs' (GRL) Laser Tag project, I've become utterly obsessed with the idea of projecting various things onto the sides of buildings.
And as you may have noticed, I like Flash particles. 🙂 And over the last couple of years I've been toying with the idea of an interactive fireworks display. And I walked past the Brighton Unitarian Church pretty much every day. And I just found myself staring at it…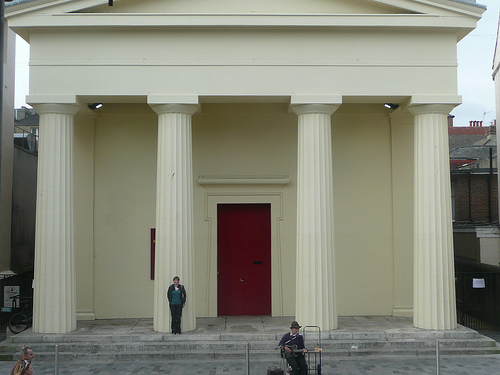 Tour-de-force
So when Tara Solesbury (then of Wired Sussex) asked us if we had any ideas for the Brighton Digital Festival, it was the perfect time to tell her of my plans! Tara, being the one-woman tour-de-force that she is, set about making it happen; coming up with the catchy title, writing a super convincing art blurb that made me sound like an actual artist, and putting all the various and many different pieces in place for it to actually happen.
Flash
Thanks to the massive speed increases in Actionscript 3 it's now possible to use Flash for this kind of ambitious project, where previously we would have had to use Processing or native code. But still, there was only about 2 weeks to go and a lot of unanswered questions…
Before we could do anything else, we had to make a nice firework effect. Using the Plug-in Media particle system, we created this :
[kml_flashembed movie="/wp-content/uploads/manual/2008/rocket02.swf" width="480″ height="366″ FVERSION="9″ QUALITY="high" /] Drag the slider down to increase the number of rockets.
In order to achieve the kind of numbers of particles we needed, we used only bitmap objects, drawn onto a big bitmap, which is much faster that moving around a whole load of sprites.
Once we got that working, of course we just didn't know what stuff would look like when it was projected onto this rather strangely shaped building! And we obviously couldn't just hoik our stuff down to the church and have a go! So the Plug-in Media team built a scale model. We were so busy my gorgeous fianceé Jenny even helped out :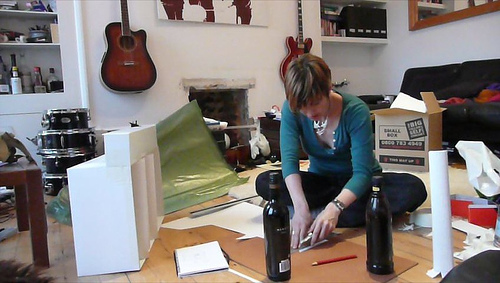 And thankfully, when we projected fireworks onto it, it looked kinda cool.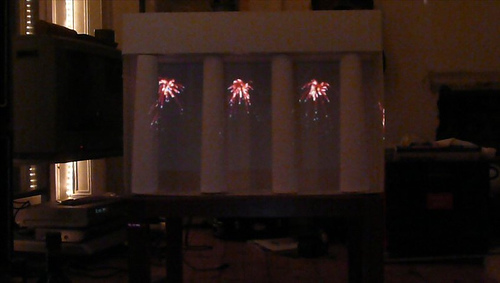 Motion detection
The motion detection and sensors were all done with a single video camera, plugged into the computer and picked up by Flash as a Camera object. We'd just take the current frame, invert it and overlay it over the last frame. Anything that was different between the frames would show up. Then we'd apply a threshold and use that to detect the changed pixels.
Here's an example of how it works :
Flash content available here
Drag the red detection area around to see the effect. And you'll need a web-cam otherwise it won't have a video feed to test!
Calibration
Naturally the main fireworks Flash object (swf) took up the entire screen for the projector, and I needed to calibrate and control this from my laptop screen. So I had to make a secondary controller swf that communicated with the fireworks swf. It was a bit of a nightmare to program with the horrible LocalConnection object, but we managed to get it working in the end.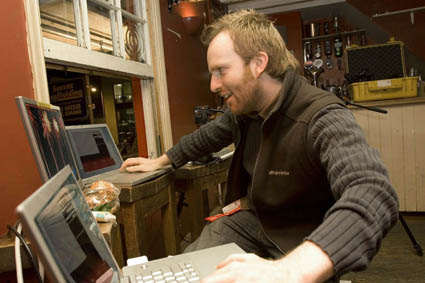 Photo by Nic Serpell-Rand
The calibration tool allowed us to move the collision areas, adjust their sensitivity, and as a nice last minute touch, we could type messages that were then projected to the audience during the show.
Projector woes
Having seen how GRL did it, we thought we knew all about projectors. How hard can it be? Just get a big arse projector and point it at the building, right? Well it's a little more complicated than that. Wide lenses, zoom lenses, throw ratios, contrast ratios, power requirements, and of course the all important lumens brightness rating.
Thankfully, Tara had enlisted Mark Scarratt and brightonart.tv, who have considerable experience in this type of large digital event. GRL were using a 5000 lumens Panasonic projector. But that wasn't going to be enough for us!
We asked XL Video about hiring one of their Barco projectors – an awesome 20,000 lumens! But rather frustratingly they were all booked out. (We later found out that Haque Research and Design were hogging 4 of them for their astonishing and beautiful Evoke installation at York Minster)
After discounting the Christie Roadie 25K lumens projector (it needs 3 phase power) Mark and his team hunted down a brand new Sanyo XF47 – the first in the UK and with a contrast ratio of 2000:1. You can't really tell from the picture, but it's HUGE! Just under a metre long in its cradle.
Oh and it costs over £1000 per day to hire. Eek!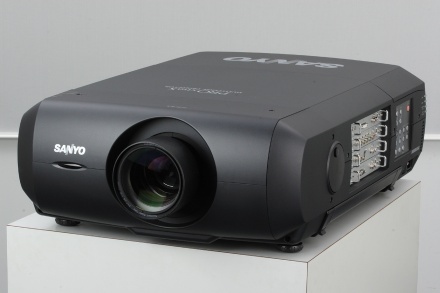 Sound
And of course what would fireworks be without the pops bangs and fizzes that usually occur? So we set up a mixer, and a couple of radio sets that transmitted the sound effects from the computer, across the road to a 16K sound system provided by Andy Mead and his company Firefly Solar.
The Future
We're already planning bigger and better things for version 2 that I can't really talk about. But keep an eye on the blog and I'll let you know. 🙂