As a special Christmas gift, I've made a snowing screensaver for Plug-in Media to give away!
I've been working on edge detection in images, so now the snow settles on the surface of objects in any bitmap :
[kml_flashembed movie="/wp-content/uploads/manual/2006/snowscreensaverexample.swf" width="450″ height="330″ FVERSION="8″ SCALE="noborder" fvars="imagename=/wp-content/uploads/2006/12/snowpicture3.jpg" /]Photo – Jorg Mueller
So I thought it'd be fun to make a screensaver that makes the snow land on the windows and icons on your desktop: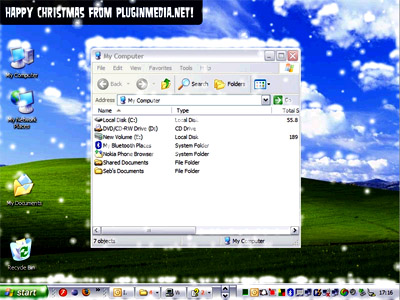 I built it using Zinc, which I picked up at Flash on the Beach. It's only a PC screensaver at the moment, but I should hopefully get a mac version working soon!
UPDATE : I'm having some serious problems with Zinc, and the screensaver is unreliable, so it's been removed for the time being. I'm working with Zinc to fix the problem.