Well it's been a week, and I've been sooo busy I haven't even had a chance to post a quick review of Flash on the Beach! We're just at the negotiation stages of a HUGE Flash game, so watch this space for more information.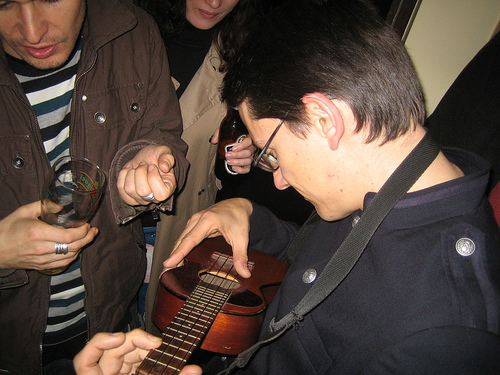 Mario steals Dom's ukulele (photo: Marc Thiele)
It was an awesome conference, and I had a great time! John did an amazing job and the venue and speakers were all spot on. It was such a privilege to have this conference here in Brighton, and it was great to see my home town in the eyes of new visitors! Thankfully, you all seemed to like it :-).
On the first day we had the Adobe guys doing pretty much the same presentation they did at FlashForward, but hey I only had to travel down the road to see it this time! (I live in Brighton 🙂 )
Then I saw Craig Swann, who's doing great work with tactile interfaces in Flash, and he's certainly inspired me to start playing around with webcams again!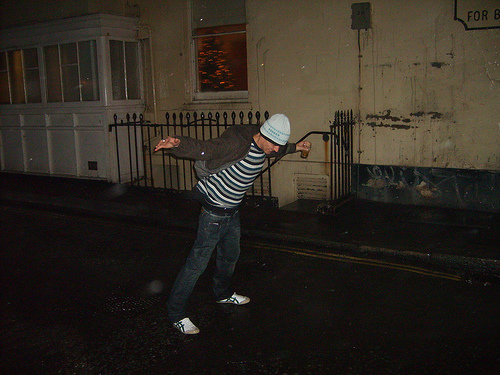 Craig enjoying Brighton's unique eco-system. (photo:Keith Peters)
And then I was called back to the office, so gutted cos I missed my good friend Aral Balkan's session. And just when I needed his explanation of how to run a huge software project. Damn it! And then I missed Eric Natske's session!!! I saw him at Flash Forward in New York in 2005, and he was awesome. But at least I got to finally meet him at the Plug-in party (more below).
The next day, I just about made it in time to see Brendan Dawes – a great session as ever. I really must get a copy of his book… and then off to Marcos Weskamp, who somehow makes boring data look really beautiful!
Then a sneaky look at MS Expression, and then made it to Keith Peters' session who gave us a quick lesson in AS3 (not a moment too soon!)
Day 3! Up early for my session, which seemed to go down well! Then back to the office again! But thankfully I managed to see Hoss Gifford (nutter) and Mario Klingemann (crazy genius).
But we were all gearing up for the Plug-in Media end of conference party! Which was a bit of an event (to say the least!) Everyone who was anyone in the Flash world was there, and we even had Dom's ukulele band, and our new friend Zamira the belly dancer. (AKA Flash expert Michelle Yaiser from Boston)
Really excited about how it went, let's look foward to the next one! And MASSIVE kudos to John Davey, great work!