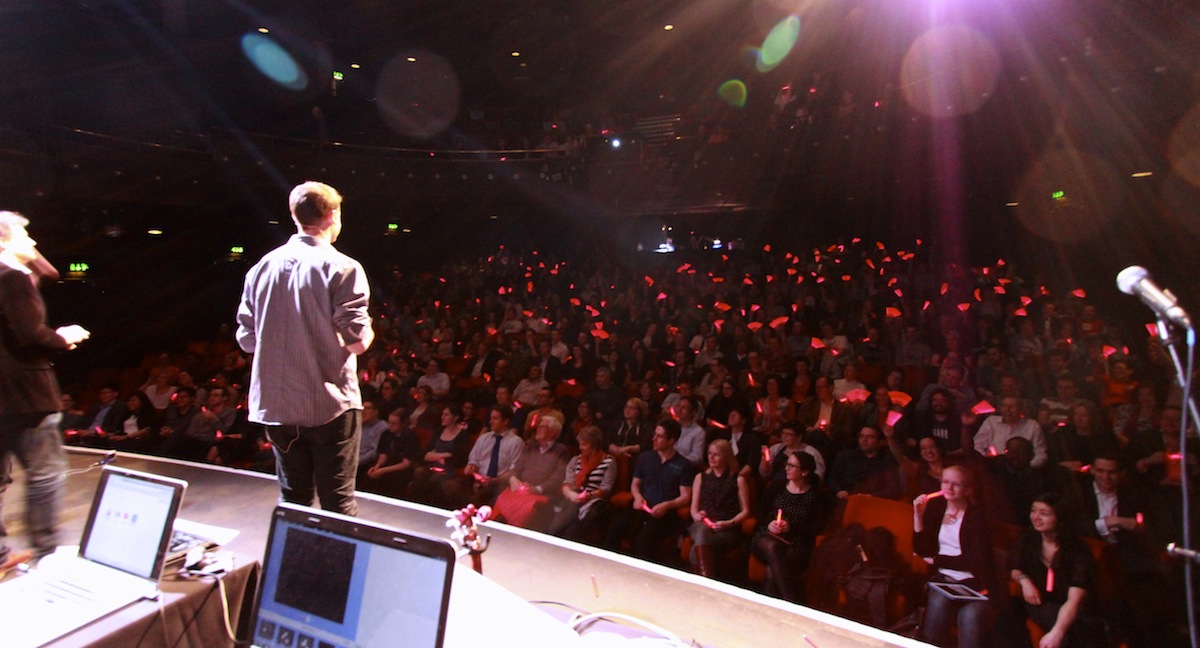 New speakers often feel awkward about asking for a speaker fee, and some conference organisers take advantage of this by not offering you one. Some don't even offer reimbursement for your travel costs.
They'll continue to do this as long as we still accept it – so here's my advice for making sure you're properly remunerated for your time and effort.
First of all – here's how I would respond to someone inviting me to speak at a conference :
Hi xxxx,

Thanks so much for inviting me to speak at xxxx conference, it looks like a great event and I'd love to be a part of it.

My fee for 2014 is £xxx, plus travel and accommodation, with payment in full 14 days before the event. If that works for you then let me know and I'll book it in.

kindest, 

Sometimes they'll come back saying that they don't have budget, or make you an offer. It's at that point that I ask, very directly, usually in one sentence.
What is the capacity and ticket price for the event?
I usually don't even put any niceties around this question, which may come across as a bit mean, but I like to think it makes me sound confident. Some simple maths will then enable to you figure out if they can really afford you or not.
Bear in mind that conferences are very expensive to run. That said, spending £100k on a venue and then not paying speakers is a choice, not a lack of budget.
Trying it on
Many, many conferences will put pressure on you to accept a lower fee, or no fee. They'll tell you that it'll be a great opportunity for you, or ask if your company will cover the costs. Please do not accept this. Any professional conference should be able to pay their speakers.
Some are so cheeky that they'll tell you that you're saving the price of the entry ticket. Like you would ever pay for a ticket if you're a speaker! This is guaranteed to make me mad.
How much to ask for?
This is probably the hardest question. I think an absolute minimum would be around £200 – at this point it's more an honorarium than anything else and it'd probably cover your extra expenses – airport transfers, meals, incidentals etc. So you're still not really getting paid.
Any decent conference should offer all of their speakers around £500 – £1000. Higher profile speakers can get £2000 – £5000 (I'm somewhere in this range). So-called 'web celebrities' could get more than this, maybe up to £10,000. And famous people (like Wozniak) could get many times more than this.
Non-profit
Some organisations are non-profit events, running reasonably priced conferences. I'm much happier to negotiate down or even waive my fee for those events. But always ask about the nature of their non-profit status.
Some conferences are run at a loss by a company that is none-the-less gaining huge benefits and exposure. You can be pretty sure that the organisers are getting their usual salary – so why should you do it for free?
And look out for events that have major corporate sponsors.
So check the ticket prices, nature of the organisation, and what happens to the profit if there is any, then make a judgement on that.
Community events
Some conferences are genuine community events that are run by passionate people and low ticket prices. Often they'll be able to at least cover your expenses, but sometimes in exceptional circumstances, I'll support these events by paying my own way.
Reaching out
Naturally most of this assumes that the conference has contacted you, and this does put you in a stronger position. If you have to reach out to events, then you may have to sell yourself a little harder, and compromise a little more. But having the confidence to ask for a fee is also part of marketing yourself and makes you look professional.
You are the product
Please remember that you are the product that conferences are selling. So it is more than fair that you get some of that income for the considerable time and commitment that you are investing.
Just say no
When I was starting out I would do any event if my costs were covered. I think I did 50 events one year! These days I insist on getting paid for my time so I speak at fewer events – I have to refuse bad offers. But that's OK, it's a natural filter.
There are really really nice ones
Please don't think that all conference organisers are horrible – there are probably just as many really well-run friendly conference organisers.
Speaking is a fantastic chance to share what you've learned and meet your peers. I absolutely love it and would recommend it to anyone who likes to talk. Good luck!
[UPDATE] Also check out this great post by Jenn Lukas on how to set your speaker fee.