Yesterday I was researching on Brighton Pier to see if there were any shooting / throwing games that I could steal, or in art-speak, "draw inspiration from" for my LazerArcade project.
It's always interesting the current crop of characters from popular culture converted into plush toys. Last year it was Angry Birds, the year before that it was Stewie and Brian from Family Guy, but now it's the minions from Despicable Me.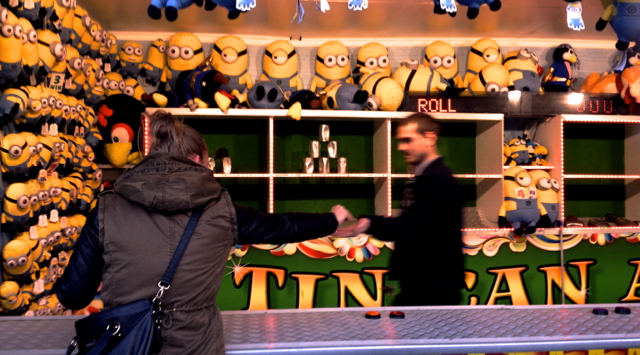 There were wall-to-wall penny drop games then a mish-mash of games based on franchises – Deal or No Deal, Guitar Hero (with specially fortified guitar controllers) and even a Fruit Ninja on a giant touch screen.
I found a few shooting computer arcade games, one based on Terminator with glowing plastic rifles, several with zombies – I suspect I'm not the only one who prefer my games to have non-human targets.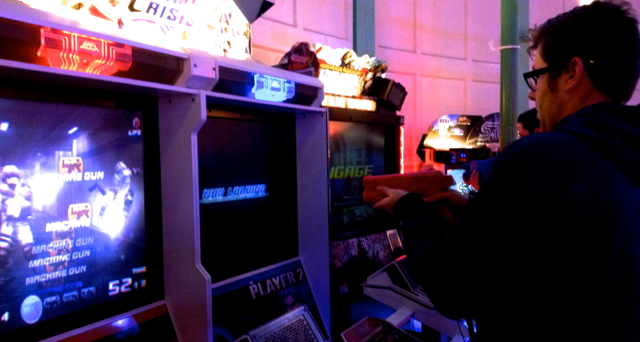 Eventually, there were a couple of manned side-shows that had real physical missiles – the rather dull Tin Can Alley (£2 for 3 balls!) and then a more interesting one with a bow and arrow – the targets were balls floating on a stream of air. I watched for a full two minutes as one player kept dropping the arrow. I felt for the underpaid assistant who had an air of resignation as he explained again and again how to grip the bow.
I ran into a local friend and began to ask what he was doing on the pier but I knew the answer before he told me – "friends visiting from out of town". Locals rarely go to the pier of course! I enigmatically told him I was there for "research".

As I walked back to shore the sun was setting and I was reminded of the original purpose of the pier – a promenade that makes you feel like you're out at sea. The noise and spectacle has its energy but it feels a means of extracting money from you in the most efficient way possible. And for fun fairs, that's nothing new, and I guess if you're having fun it's a fair trade.
This post first published on the Margate Games blog February 17th 2014