flickr/adobeusergroup
It's become a bit of an annual tradition for me to review my year. And it's also a bit of a tradition for me to leave it quite late! I guess this process is a little self-indulgent, in truth, I'm so frantic most of the time that's it's a great opportunity to take stock and remind myself of all the incredible experiences I had in 2011. So here goes…
The year of JavaScript


3D pixel renderer from CreativeJS.com
2011 was the year of CreativeJS – I put together the first workshops in January, and haven't looked back. There were around 20 last year all over the world, and I think that most, if not all, sold out.
There's never been a greater demand to learn creative coding in JavaScript and I'm thankful that I've been able to transfer techniques across. And very lucky that people seem to like it!
CreativeJS.com

There was such a growing interest in CreativeJS that I launched a spin off website to showcase the best JS projects and tutorials in July – we've had nearly half a million page views since then!
Conferences
As the Flash community has somewhat dispersed, I've been branching out into other communities. I've spoken at many types of conference, not just JavaScript, but also wider web design, mobile, and digital art.
When you're trying new things and meeting new people it can be intimidating – I've spent a lot of 2011 well outside of my comfort zone. But the initial awkwardness passes, and those strange faces quickly become familiar.
I've met all sorts of talented people across a variety of fields and without fail they've been incredibly welcoming and friendly.
Creative Coding Podcast

Iain Lobb and I started the Creative Coding Podcast in February. I'm not sure that either of us quite knew what to expect, but I've really enjoyed having a new outlet, and we recorded nearly 20 hours of material so far.
I think it often comes across better than the written word – listeners can hear the tone of your voice which really helps when the subject matter is contentious. So far, our podcasts had been downloaded nearly 200,000 times! The most popular episodes are Flashageddon and Robert Hodgin.
Projects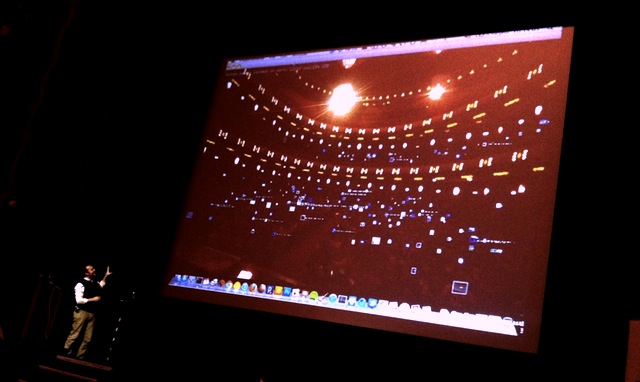 flickr/johansterenberg
By biggest project by far this year was PixelPhones, where I connect all the phones in the audience into a massive pulsing blinking display. I started it in April and I just about got a prototype together in time for September. It was my first really big project in openFrameworks and there was a huge learning curve.
It needs more refinement and optimisation but I have big secret plans for it in 2012 that will be announced in April.
Travelling

Lots of travelling this year with three trips to the US. First stop was SxSW in Austin, which is a very silly conference. Then my wife Jenny and I spent 2 months in New York which was boring. Nah only joking – it was New York! An amazing experience and fantastic chance to hang out with our friends there.
Finally in October I took the CreativeJS workshop on a sold-out tour through NY, Pittsburgh, Philadelphia and Washington DC. There were also trips to Sweden, Amsterdam (twice), and Germany.
In October I finally discovered Instagram and I love it. It's a brilliant way to document my travels although a bit annoying that you can only easily share with other Instagrammers (my username: sebleedelisle). And if you're not on there, I'll be posting my photos on Flickr.
Teaching

There's been lots of teaching, but not all in JavaScript. I ran an Arduino workshop at BuildBrighton, a Processing module at Sussex Downs College, and a session at Update about Corona, the iPhone and Android gaming platform.
It really got me thinking about teaching non-programmers and designers. This will be a theme for 2012.
Blog
You might have noticed that my blog has had a redesign – this is all thanks to the talented designer and friend, Val Head (who designed and writes for CreativeJS.com). It's still a work in progress so expect to see a few more tweaks in the coming months.
What's next?
Lots of new stuff, new workshops, and new conferences. I'm already getting booked up for most of the year, so if you think you might want me to come and speak at your event, I wouldn't hang around!
2011 was a pretty stand-out year for me, let's hope 2012 will be just as amazing.