What can I say about FlashBelt that hasn't already been said? It's such a great conference and Dave did an excellent job yet again.
Sadly I missed a lot of sessions as I had last minute changes to my own presentation, but managed to make it to the classic double act Richard Galvan and Mark Anders presenting the Adobe keynote.
Other notable sessions included Jared Tarbell, with beautiful and inspiring work (he's laser cutting stone now!) and Jer Thorp sharing his early computing experiences that resonated with my own history. Despite the fact that I missed a lot of presentations, there was such a great vibe and I really enjoying hanging out with good friends, old and new.
As for my session, well not many conference organisers can get you a drum kit at a moment's notice. Which was just what I needed for my visual sampler (full post coming soon).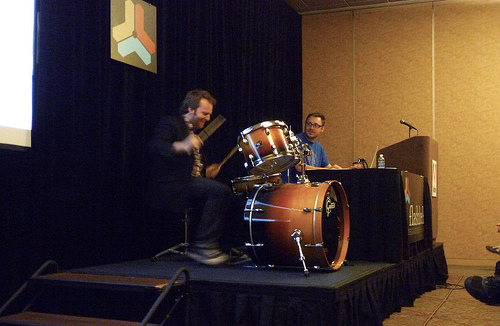 I also introduced a new "anti-tween" engine, Tweaser and I've opened it up for beta testing. So keep an eye on the next post or two (and my twitter feed) if you're interested in signing up.
I got some great feedback (thank you!) and I'm glad you enjoyed my new experiments.

The parties were as good as ever, and what FlashBelt would be complete without the obligatory drunk singing at the legendary Nyes piano Karaoke. The same pianist is there every year with the same bawdy humour, the same songs, and the same dodgy viagra jokes. I sometimes feel like his life must be like some crazy booze soaked groundhog day. But I would so miss him if he wasn't there!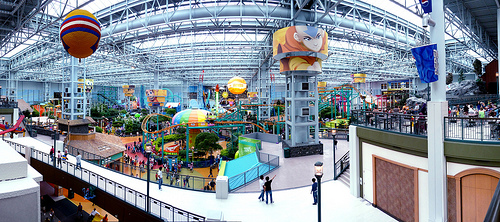 I also had a chance to explore Minneapolis, including the crazy Mall of America where I discovered this highly surreal seat stuck to the wall.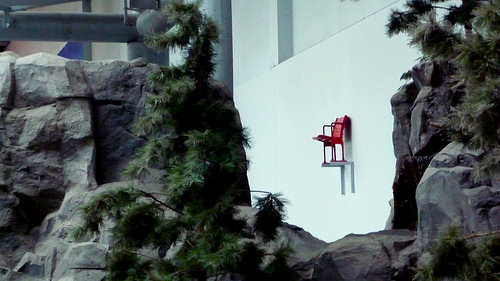 And on Tali's instructions (whose session was excellent, so I hear), we also visited the architecturally wonderful Guthrie Theater.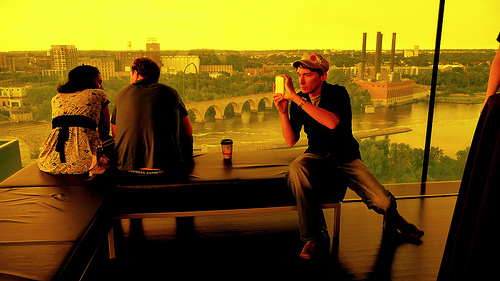 There are rumours that this may have been the last FlashBelt, let's hope not. Either way I'm coming to Minneapolis next year to continue the tradition 🙂
Current stop on my world tour is Kansas City for D2W.