If you saw my presentation at Flash on the Beach, MAX, or FlashPitt, you'll know that I've been trying to get hold of Jennifer Blackwell for some time now.
After a month of voting on iwillpayyourparkingticket.com, you chose the winning tweet from twitter.com/jenwell, and I couldn't be happier with your choice! It is so in line with the spirit of the website.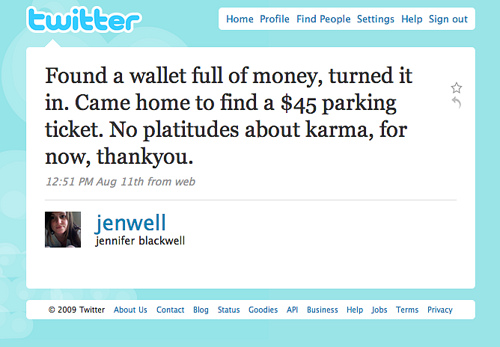 But of course my messages to Jennifer were ignored; sadly she just thought I was a British weirdo. (And she wouldn't be entirely wrong 🙂 ) So what could I do? In a last ditch effort to contact her, at Flash on the Beach, I asked the audience to tweet her to reassure her that I was genuine, and around 100 people sent her @ replies on twitter!
So to cut a long story short, I arranged to meet Jennifer in New York as her boyfriend lives in Brooklyn and our travel plans overlapped by one day. Her boyfriend Brian very kindly filmed our meeting where she told me the story of her parking ticket and when she first realised I was trying to find her. Note that just like in Minneapolis, I paid Jennifer's ticket in a mixture of currencies 🙂
Now we've had our first winner, we have some more work to do on the website, including being able to see the top ten best tweets, previous winners and also adding donations so this project doesn't ruin me 🙂