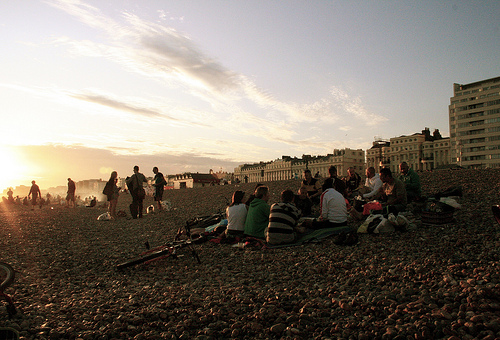 It's next week! NEXT WEEK! The most exciting digitally creative speakers will be descending on my home town to the 4 day inspiration-fest that is Flash on the Beach.So I thought I'd take a look at the schedule and let you know who I'm planning to watch.
Except John has totally screwed me over by booking such great speakers that for many sessions I can barely manage to narrow it down to two! Thanks John! 😉
So here, are my recommendations…

MONDAY
9:00 Keynote with Richard Galvan
I guess we may as well go see the Adobe gang, although I strongly suspect they'll be saving the good stuff for Adobe MAX.
10:15 Keith Peters, Casual Game Architecture
How can I not go see my good friend Keith? Especially when he's talking about such a great subject. But I expect that Carlo Blatz will also be shedding some light on the workflow at PowerFlasher, so I'll be sad to miss that.
11:30 Carlos Ulloa, HelloEnjoy
Carlos has had such great accolades bestowed upon him this year and for good reason. The quality of his work is exceptional, and if you knew how long he spent on the tiniest details then you'd have a small insight into his life. Rich Shupe is also worth checking out – he's a great teacher.
13:30 Rob Chui, Fear/Love
If you saw Rob's brilliant Flash on the Beach video last year, you'll see the kind of work this guy is capable of. My friend Mike Jones is also worth checking out if you're a Flex fiend (although I think he's talking about Catalyst).
14:45 Joshua Hirsch, Big Spaceship : Fun begets quality
A very close call here between Josh and Dr Woohoo! who is a brilliant and inspiring digital artist. But Josh wins by a whisker, just because I love Big Spaceship and the work they do. Any insight into their process is surely unmissable.
16:00 Hillman Curtis, Telling Stories
I've seen Hillman present a couple of times, and he left with me a desire to create short films! And he also made me feel like anyone could do it. Which is, ultimately, what you want out of a session like this 🙂
20:00 Joel Gethin Lewis, Epiphany
I met Joel at FlashBelt this year, and he sparked somewhat of an epiphany of my own. He creates mindblowing installations using OpenFrameworks, which he describes as "Processing on crack". He is an incredibly confident and eloquent speaker and I love his work.
TUESDAY
9:00 Elevator Pitch
For once it'll be worth getting out of bed early on Tuesday to witness the insane spectacle that is the 3 Minute Wonders. In order to cultivate new talent, John has offered 20 speakers a 3 minute slot to show us what they're capable of. There are 2 FlashBrighton members; Matt Pearson (talking about generative art) and Nick Kuh. Other noteworthy wonders are Iain Lobb (a brilliant London game coder), Jon Howard from the BBC (who will make a game in 3 minutes – this I have to see!) and Andrew Fitzgerald (maker of Partigen particle engine).
10:15 Grant Skinner, Quick as a Flash
Sadly, Grant pipped Peter Elst to the post – I'd love to see Peter's session about being a freelancer, if only to hear his secrets! But instead I'll probably make it over to see Grant. Who seriously knows his stuff. If you're an actionscripter you have to see Grant.
11:30 Joa Ebert, Leaving the Sandbox
Another incredibly difficult choice, the truth is that I would also very much like to see Andy Polaine's session about play, and my friend Lisa Larson-Kelley's FMS presentation. But as a geek, I have to choose Joa, the geek of geeks.
13:30 Richard Lord, Application Frameworks
Truth is, I would actually choose to see Jeremy Thorp's brilliant session, but I just saw it at FlashBelt. So instead I'll be checking out my London friend Richard Lord, talking about application frameworks. I actually hate application frameworks, but I'll see what he has to say about them to see if I can be persuaded. But I doubt it. 🙂
14:45 Joel Baumann, Numbers in Art
The work of London agency Tomato is world reknown, so it'll be great to hear more about how they work. But I'd also like to see Karsten Schmidt. Dammit!
16:00 Contrast, Unconventional Web Applications
I'm not massively excited about this session, but it's the only choice for this slot. I hear great things about these guys, but my only experience of them is Qwitter, which I use, and doesn't seem to work (unless no one is ever unfollowing me on Twitter, which I seriously doubt 🙂 ) I'll keep an open mind, then 🙂
20:00 Craig Swann, Choose your own Adventure
A welcome return to Brighton for Craig, who skipped last year I think. I certainly haven't seen him for a while. His sessions are always fun and his work is really cool. Whether it's playing around with motion detection or electronic wind chimes.
WEDNESDAY
9:00 Koen de Weggheleire, Play with Vectors!
Again, massively torn here between Koen and Andre Michelle, but I saw Andre recently, so I'm gonna give my vote to Koen this time. His enthusiasm and humour fill his presentations and he's a great speaker.
10:15 Stacey Mulcahey, Can play well with others
Of course Mario's session will also be unmissable, but I saw him at FlashBelt and anyone who follows @bitchwhocodes will get a feel of Stacey's sense of humour. But along with the comedy are some really useful real world examples of how to run software projects (and how not to run them!)
11:30 Hugh Elliot, The 10 Best Excuses Not to do Amazing Work
Of course you should come and see me speaking (there'll be glowsticks) but naturally I can't vote for myself. 🙂 Hugh is a great guy and I've never seen him speak. But due to the dodgy scheduling I guess I never will! Also keen to see what Colin's up to but I can't split myself into 3 dammit!
14:45 Ralph Hauwert, Research realtime graphics with Flash 10
Of course I will be supporting my fellow Papervision3D team member and all round genius Ralph speaking about his crazy hard core graphics experiments. For the less geeky, I would recommend Jared Ficklin's sound session, he does some great things with fire (See his Ruben's Tube).
16:00 Joshua Davis, Space
It's great to have Josh back in Brighton, he's one of the truly pioneering Flash artists, I'm looking forward to see his latest work.
So it's an absolutely mindblowing schedule, and every single speaker is brilliant, and I'm really sorry that I've passed so many notable sessions over. I blame John for that. 🙂