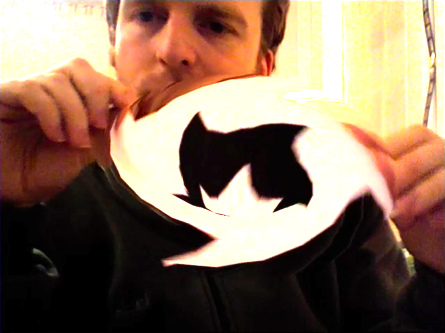 I must admit, I never really saw the point of augmented reality. It just seemed like a gimmick. But now I've been playing with it a little I'm hooked! And now I know it's just a gimmick. But it's such a pleasing gimmick I can't seem to resist it!
You may have seen my presentation in December with my early experiments, it was nothing much but I made some snow and a little Christmas tree. Although to be honest I got the best round of applause for admitting that all I'd really done was compile the library 🙂
Since then I've been thinking about the possibilities even more, and I have to admit to being utterly blown away by the Japanese coder Saqoosha's Happy New Year video, and it got me thinking about ways to take the image from the webcam and actually map that back onto 3D shapes, so it looks like we're twisting and distorting reality!
It's a very early demo, and it needs a lot more refinement. I'd like to add some more shading and particles, and have objects getting sucked in.
I'll be covering augmented reality and working with the FLARToolkit in my upcoming Papervision3D training course. (Get in quick if you want the early bird discount!)
Here's the video :
//vimeo.com/3016059
Papervision3D augmented reality wormhole from Plug-in Media on Vimeo.
And here's the presentation from before Christmas :

Festive £5 app: Seb and his magic particles from ribot on Vimeo.