Last night was yet another fantastic FlashBrighton / Bang / Carnival 'O' Fun. (Perhaps the longest, and most gratuitously obscure name for an event) It's essentially a film night that showcases the best Flash animations, and there's usually a top industry speaker (last night was the fascinating and talented writer Bob Swain).
There's also a segment of the evening devoted to YouTube madness! People from the group submit their favourite youtube videos, and the audience votes on which is their favourite.
After a particularly farcical paper-based scoring system at the last Carnival 'O' Fun I felt that we needed something a little more automated, and decided that I would build a glow-stick based audience voting tool!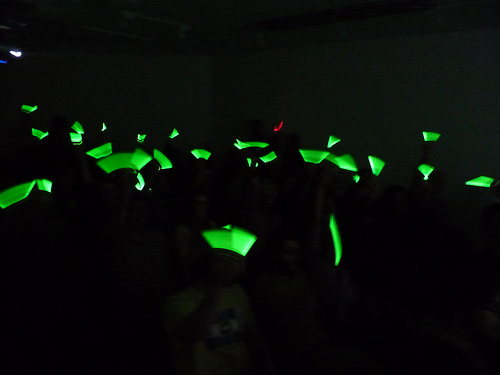 So with only an hour to go before the event, I hacked together a quick tool that (like the interactive fireworks) picked up motion in the room and produced a score depending on how vigourously the audience shook their glow-sticks!
Although it was a pretty simple tool, it was actually masses of fun. I'll do a full write up later, and make the video player and voting system open to other user groups to use.
Check out the (very rough) youtube vid to see it in action!