Don't you hate it when Flash speakers act as though they're rock stars? After show parties, crowds of fans, and not to mention the inflated egos.
Well now I think we've taken it a step further with the announcement of Phlash5, a rock band made up entirely of Flash speakers! And our debut gig will be at Flash in the Can Hollywood in 2 weeks time!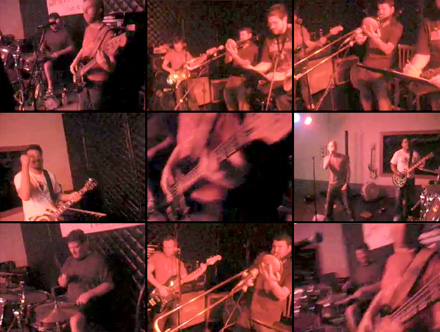 It's perhaps not the most practical of set-ups; our various members are all about 4000 miles away from each other. You'd think that we're all properly teched up and we could somehow rehearse online, but trust me, that is not really feasible.
But thankfully, as we all meet up regularly at the various Flash conferences around the world, it may just come together! Our first rehearsal was in Boston during FlashForward. Our second rehearsal will be in Hollywood right before FITC. And then it's our first gig the next day, Monday night, October 22nd.
It's actually quite an awesome line up, there are some amazing Flash superstars:
Samuel Agesilas (Saffron) : Guitar
Chris Allen (Red5) : Trumbone and MD
Aral Balkan (SWX) : Vocals
John Grden (PaperVision3D) : Drums
Seb Lee-Delisle (Plug-in Media, just in case you hadn't realised) : Bass
Chris Mills (formerly FriendsOfEd, now Opera) : percussion
Jared Sims (the only non-flasher of the band, here purely on musical merit!) : Saxophone
Craig Swann (Crash!) : Guitar, samples and visuals
Let's just hope that our musical ability matches our Flash expertise 🙂
But that's not all, a big part of the vision for this project is to use Red5 to take various bits of video and audio data from each of us and mix it all up in one mind-bogglingly clever application, and project the results onto two big screens.
And as I'm going to be there, Shaun asked me to speak at the conference too! An extremely bizarre example of a situation where my bass-playing skills has helped to further my Flash speaking career! I'll be speaking on Tuesday morning at 9am, the morning after the gig. Hmmm maybe we didn't quite think that through… But it'll be another chance to see the AS3 particle session I presented at FlashForward, with added Phlash5 inspired sound triggered particles!
It's gonna be a lot of fun, and actually the quality of the musicians is very impressive. Flash speakers seem to have a propensity towards musical prowess, in fact some of us even have a background as professional musicians.
It should be a great night, if you're in Hollywood, come and check it out.
You can read more information about each of the band members at the FITC site.
Gig details :
Venue : Howl at the Moon, Citywalk
Time : 9pm onwards
Upcoming page : //upcoming.yahoo.com/event/289373/