Flash on the Beach was amazing this year. I really feel like John is getting the formula right – there were many more creative sessions this year, and the Dome bar was kept open after the inspire sessions. This was a great opportunity to hang out, chat (without loud banging music – take note other conference organisers!) and of course drink the subsidised £1 drinks (thank you Influxis!).
I didn't get to see as much as I'd hoped but my personal highlights were Cyriak Harris, Brendan Dawes, Ralph Hauwert, Jared Tarbel and the brilliant elevator pitchers. I was also really lucky to get into Andre Michelle's fantastic audio programming workshop. Sadly I missed many of my favourites; Mario, Robert Hodgin, Stacey, Chris Pelsor, but I hear they were all excellent as usual.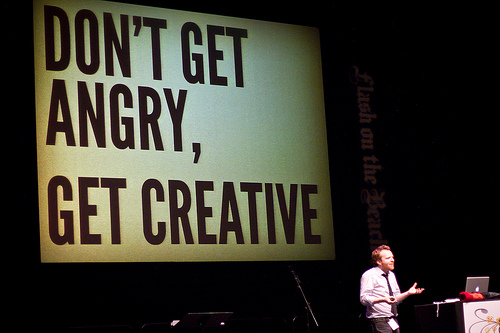 Photo : Marc Thiele
But for me personally it was a really special one. Anyone that knows me knows that I like a challenge, but I think even I wasn't prepared for the huge undertaking that was What the Flux!?.
I'd shot over 4 hours of footage, processed the survey, and made an iPad controlled gameshow. But that wasn't even half of it. Just unravelling the many threads of the subject matter was a huge and terrifying task. I'd find my opinion changing on an almost day by day basis. It's so easy to get caught up in the details and I really had to force myself to see the big picture.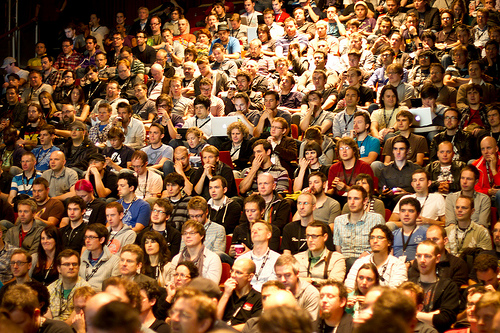 I was honestly expecting to get pitchforked out there, or at least to widely polarise opinion but I was actually blown away by the (so far unanimously) positive response. The venue was packed, and people were getting turned away at the door (including almost everyone from Adobe, sadly!)
My friend Iain Lobb generously called it the "standout session of the conference", Flash Magazine said "…uncomfortable to hear but it's all delivered with his usual disarming manner" and also called it a standout session, and Peter Elst kindly said "…fantastic talk we all needed to hear".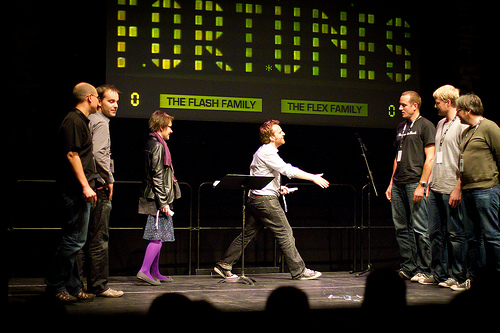 But that's not all, I was literally overwhelmed with people approaching me to say that I'd really helped them clarify what was going on, and opened their mind to learning new stuff.
So, what were my findings? Well I've posted the slides on my Flickr account, they're pretty meaningless without the presentation, but at least it gives you some of the survey results. I'm going to be working in the coming weeks on doing something useful with the video footage and maybe cut together a short film summarising what I've discovered. The short version is :
Don't panic, and don't get angry – it makes us look bad
Don't be an island – look out at what's going on
Accept that Flash is changing – love the flux and love learning.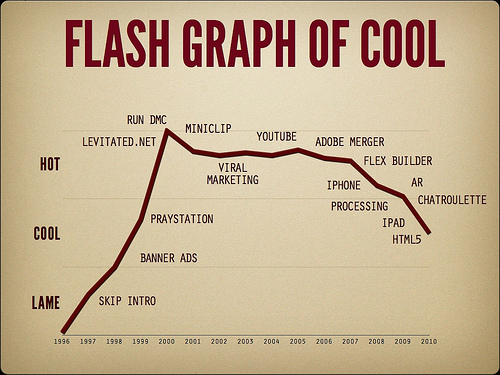 Of course there was a lot more to it than that. I investigated how Flash has changed over the years, and how it's getting squeezed by other technology.
And the touchy subject of the Adobe and Apple debacle, and how that affects us. And should we care?
If you want a further explanation maybe I'll be at a conference near you soon? If next year is anything like last year, I'm sure I'll be travelling a lot! 🙂 I'm also happy to do remote broadcasts for user groups.
But I wanted to say that I'm honestly humbled by your feedback, thank you. I've put months of work into this presentation; more than any other that I've ever done before, and it means a lot that you got something out of it.
I need to thank my interviewees Andy Budd, Jeremy Keith, Brendan Dawes, Branden Hall, Remy Sharp, and Jer Thorp. Also, Val Head for the t-shirts, everyone that helped me practice Flashy Fortunes (especially my very accommodating wife Jenny) and the volunteers that stuck the raffle tickets to the chairs. 🙂