This has been a massive problem to me lately, particularly with distributing files on my training courses. For some reason, the swf files that I give my attendees don't open with the stand alone FlashPlayer, instead they often default to Flash CS4 etc.
I know the usual way to do this is by right clicking and selecting "Info" (or cmd-i) and then setting the app to open this file and then "Change All". But for some reason, with swfs this doesn't seem to work and it just reverts back to CS4 or whatever it was before.
This was driving me mental.
But I've found a fix – RCDefaultApp
This is a preferences pain that allows you to choose the app for a given file extension.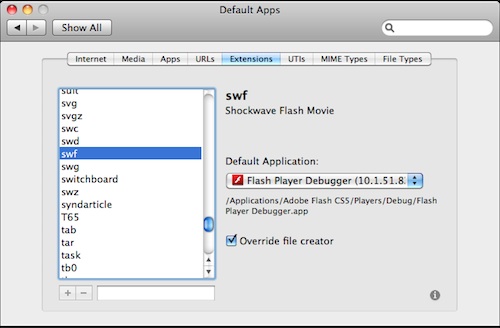 This seemed to fix it for me but I'd love to know why this happens and how you've solved it on your machine, particularly for Windows. And you'll save me a lot of trouble in my upcoming training courses!