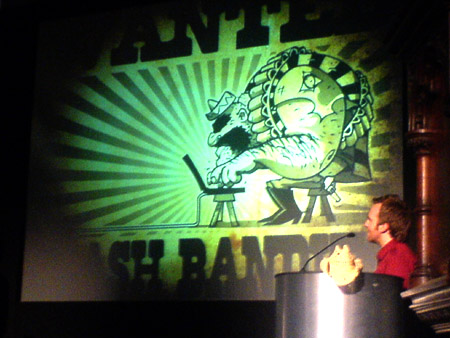 Last night was dSCAPE's designers' night, this year taken over entirely by Flash bandits! The event was sold out with around 200 attendees, and I was co-presenter along with Tara Solesbury from Wired Sussex. As self-appointed Flash ambassador of Brighton, it was great to catch up with all the local Flash companies and see their latest work. All the presenters had amazing work to show off, and it's no real surprise that I'm friends with pretty much all of them. I am after all the Flash slut of Sussex 🙂
I opened the evening, with a first look at the new Plug-in Media site, now up for public beta testing. Closely followed by FlashCodersBrighton mascot, Jerome presenting StudioTonne's cool sound toys.
Another FlashCodersBrighton member James Ellis Marsden (FuturLab) demoed their new Flash game Prism, which is looking pretty smart. (although I still haven't quite worked out how to play it… 😉 ) We also had animators John Davidson of Blunt74 and Richard Mitchelson: both animators working in the broadcast arena. It's really interesting to see how Flash is used to produce animated TV shows.
LittleLoud, another company we work with regularly, showed off some beautiful new interactive work. They prove that you can achieve really high quality cinematographical (is that a word?) style with Flash.
And last but by no means least, Kerb showed some outstanding animation and games. I worked with Kerb a few years ago, and it's great to see that they're still producing some of the best Flash work in the industry. Plus it was good to catch up with ex co-workers Zeb and Dylan, a pair of the finest illustrator/animators in our field.
And just when you thought that was more than enough excitement for one night, there was even a raffle for Adobe software and highly coveted Flash on the Beach tickets.
I'd like to say a massive thank you to Tara, Nick and the rest of the team at Wired Sussex for making this event such a huge success, and particularly for giving the Brighton Flash community a chance to show their wares.