ST4I – Stuff That Talks To The Interwebs
2 day workshop
According to Intel, "The Internet of Things is exploding" – we prefer to call it Stuff That Talks To The Interwebs (ST4I) but whatever you call it there's no denying that we are on the edge of something huge. There will be 15 billion smart devices online next year, and by 2020 that number will raise to 200 billion. Now is the time to get your skills up to speed to prepare for this exponential growth.
This brand new 2 day course covers all of the emerging platforms and services, and includes a workshop kit packed full of electronics worth over £150.
You'll make hardware prototypes with hands-on examples using a variety of sensors, lights and displays. And the best part – each example is internet connected, either retrieving data from a web API, or connecting to a socket server for real-time instant communication.
Dates and Tickets
The first events sold out within a day, but leave your email address and I'll let you know about the next one.
Want to hear about future workshops? Leave your email and I'll let you know!
Want an ST4I workshop to come to your city or company? Let us know! Email seb@leedelisle.com
Previous workshops :
15-16 June, London, UK – SOLD OUT
9-10 May, Dusseldorf, Germany
25-26 March, Amsterdam, NL – SOLD OUT
3-4 February, Brighton, UK – SOLD OUT
23-24 February, Brighton, UK – SOLD OUT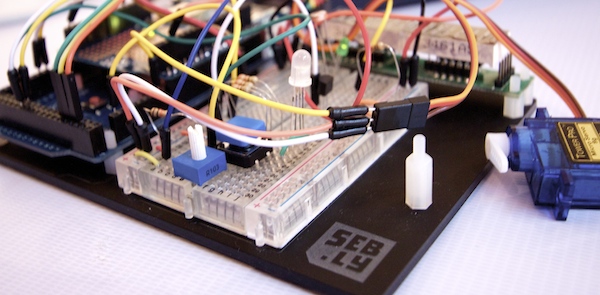 What you'll learn
We'll take a look at the strengths and weaknesses of the most popular services and platforms available today. Including Xively, SparkFun data, IFTTT, Spark.io, Electric Imp and Raspberry Pi.
The hands-on exercises will have you building your very own ST4I projects right away, using the popular Arduino open-source electronics board with a wifi shield and a Node.js server. All examples we build in class are yours to keep. All the code and circuit layouts are provided and you can use these as a starting point for your future ST4I projects.
In-house training
This workshop can be provided in-house with a minimum of 8 and maximum of 12 attendees. A spacious workshop room with tables is required but we can source a suitable location if necessary. Email seb@leedelisle.com for more information.
Course pre-requisites
This workshop requires no previous knowledge of electronics, basic programming skills are useful, but not necessary as all the code examples are provided.
About the instructor
Seb Lee-Delisle is an award winning digital artist and international keynote speaker. He makes large scale interactive installations with computers and electronics. He won 3 Microsoft Critter awards in 2013, including Web Personality of the Year and Voice of the Year (best presenter) and he was Technical Director on Big and Small, the BBC project that won a BAFTA in 2009. He has run private workshops for the BBC and Lego and his previous clients include Microsoft, Sony, Google, Nickelodeon, Philips and Unilever.